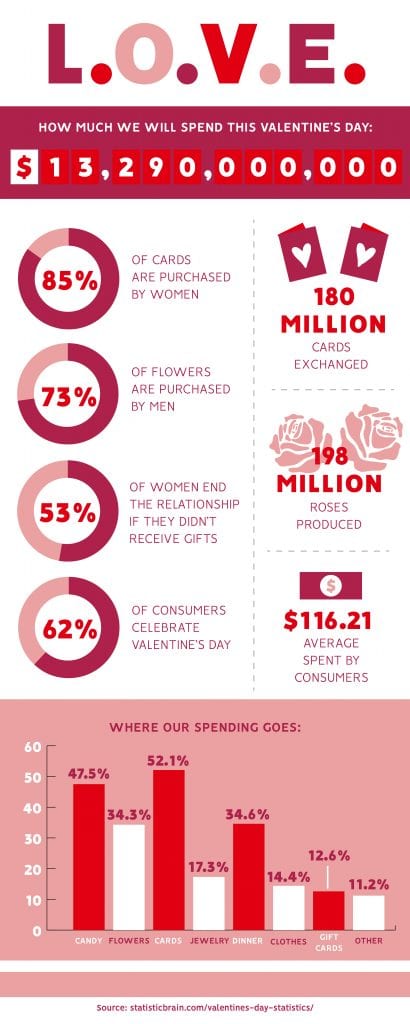 This Valentine's Day celebrate and share God's everlasting love. 
Articles
FamilyLife
15 Digital Valentine's Day Ideas (online article)
10 Ways to Celebrate Valentine's Day on a Budget (online article)
Focus on the Family
Focus on the Family Marriage Assessment (free online tool)
Valentine's Day Cards for kids (free download)
14 of God's Best Valentines
Cru, Rich Atkinson
God's love for us is not based on our goodness.
"But God demonstrates His own love toward us, in that while we were yet sinners, Christ died for us" (Romans 5:8).
God initiated conversation with Adam after he sinned.
"They heard the sound of the Lord God walking in the garden in the cool of the day, and the man and his wife hid themselves from the presence of the Lord God among the trees of the garden. Then the Lord God called to the man, and said to him, "Where are you?" (Genesis 3:8-9)
God's love pursues us
"For the Son of Man has come to seek and to save that which was lost" (Luke 19:10).
God's love overflows
"The Lord's loving kindnesses indeed never cease,
For His compassions never fail.
They are new every morning;
Great is Your faithfulness" (Lamentations 3:22-23).
God's love is sacrificial"For God so loved the world, that He gave His only begotten Son, that whoever believes in Him shall not perish, but have eternal life" (John 3:16)
God's love is an everlasting love
"The LORD appeared to him from afar, saying, "I have loved you with an everlasting love; Therefore I have drawn you with loving kindness" (Jeremiah 31:3).
"For the LORD is good; His loving kindness is everlasting, and His faithfulness to all generations" (Psalm 100:5)
God's love is life giving
Yes, He cares about our physical and emotional needs, but more importantly our spiritual life.
"The thief comes only to steal and kill and destroy; I came that they may have life, and have it abundantly" (John 10:10)
God's love is part of His very being and character
"Beloved, let us love one another, for love is from God; and everyone who loves is born of God and knows God. The one who does not love does not know God, for God is love" (1 John 4:7-8).
God's love encourages us
"For whatever was written in earlier times was written for our instruction, so that through perseverance and the encouragement of the Scriptures we might have hope. Now may the God who gives perseverance and encouragement grant you to be of the same mind with one another according to Christ Jesus" (Romans 15:4-5).
God's love corrects us
"And you have forgotten the exhortation which is addressed to you as sons,
"My son, do not regard lightly the discipline of the LORD,
nor faint when you are reproved by Him;
for those whom the LORD loves he disciplines,
and he scourges every son whom He receives" (Hebrews 12:5-6)
God's love invites us
"Come to Me, all who are weary and heavy-laden, and I will give you rest. Take My yoke upon you and learn from Me, for I am gentle and humble in heart, and you will find rest for your souls. For My yoke is easy and My burden is light" (Matthew 11:28-30).
"Come now, and let us reason together," Says the Lord, "Though your sins are as scarlet, They will be as white as snow; Though they are red like crimson, They will be like wool" (Isaiah 1:18).
God's love comforts us
"Blessed be the God and Father of our Lord Jesus Christ, the Father of mercies and God of all comfort, who comforts us in all our affliction so that we will be able to comfort those who are in any affliction with the comfort with which we ourselves are comforted by God. For just as the sufferings of Christ are ours in abundance, so also our comfort is abundant through Christ" (2 Corinthians 1:3-5).
God's love forgives us
"If we confess our sins, He is faithful and righteous to forgive us our sins and to cleanse us from all unrighteousness" (John 1:9).
God's love is patient toward us
"The Lord is not slow about His promise, as some count slowness, but is patient toward you, not wishing for any to perish but for all to come to repentance." (2 Peter 3:9)
God's love changes us
"And you were dead in your trespasses and sins, in which you formerly walked according to the course of this world, according to the prince of the power of the air, of the spirit that is now working in the sons of disobedience.
Among them we too all formerly lived in the lusts of our flesh, indulging the desires of the flesh and of the mind, and were by nature children of wrath, even as the rest. But God, being rich in mercy, because of His great love with which He loved us, even when we were dead in our transgressions, made us alive together with Christ (by grace you have been saved)" (Ephesians 2:1-5).
Learn how you can experience God's love and forgiveness.