WGRC relies on the generous support of businesses, churches and organizations to continue our mission of spreading the love of Christ throughout central Pennsylvania.
When you visit a WGRC Business Partner, please be sure to thank them for their support of your Christian radio station here in Pennsylvania's heartland!
About Us
We are a non-denominational para-church organization committed to serving the Lord Jesus Christ by reaching, encouraging and edifying people through the ministry of Christian radio.

Our network of 8 stations reaches a loyal, family-oriented audience across a 17-county coverage area.


(Population base of broadcast area:  750,000+)
WGRC Coverage Map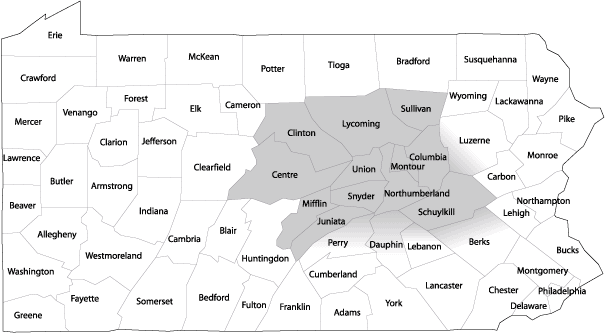 How Can Your Business or Organization Support WGRC?…
Answer:  Underwriting!
Underwriting vs. Commercial Advertising
We are a noncommercial radio ministry supported by contributions and not advertising. When your business, church or organization makes a financial contribution to us, your support is acknowledged on air.  This is known as underwriting.
The Federal Communications Commission (FCC) has given us a set of guidelines for wording of these underwriting announcements.

Underwriting Announcements may include:
The name of your business/church/organization

Your address, telephone number and/or web site

Brief examples of products and/or services offered



Underwriting Announcements may not include:
Comparative language (e.g., "the best," "award-winning")

A call to action (e.g., "see them today," "call us")

An inducement to purchase or participate (e.g., "free estimates," "this month's special is…")

Pricing, whether regular or discounted
WGRC is a Wise Investment 
Your underwriting announcement will be surrounded by tasteful, professional programming that follows biblically-based standards. It also stands out, because listeners only hear a few per hour, not several in a single commercial 'set.'

71% of contemporary Christian radio listeners are in the 25-54 media-buying demographic. (Nielsen)

33% of adults say they would be more open to purchase a particular brand if the company embraces and supports the Christian faith. (Barna Survey, 2011)

How many announcements will I receive for my donation?

Donations are recognized with on-air announcements equal in value to your support.

You may either tell us how many announcements that you would like us to run or you can give us a budget and we can work with you to develop a schedule that best fits your needs.
Bonus:  Any underwriter with an active "TFN" contract in good standing will be listed on the WGRC website with your name, address and telephone number and a direct link to your web site, so folks may find out more about you!

For specific information please reach out to us using one of the contact methods below…
That all sounds great!  How do I get started?

You may call WGRC at (570) 523-1190 or (800) 546-9472, or send an e-mail to email@WGRC.com.
                                                            OR
Complete the form below and a member of our staff will contact you.
---
If you'd like more information about supporting WGRC through underwriting, please complete the form below. We can also provide you with information about how the use of underwriting on WGRC can help boost your event promotion.
WGRC Sponsorship Request Form:
Save
Save
Save
Save
Save
Save