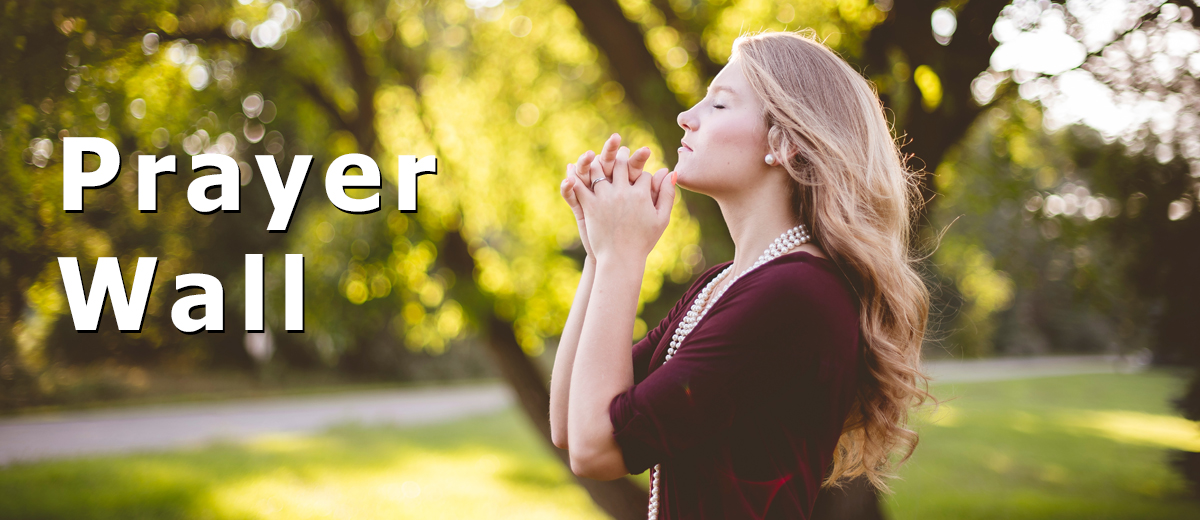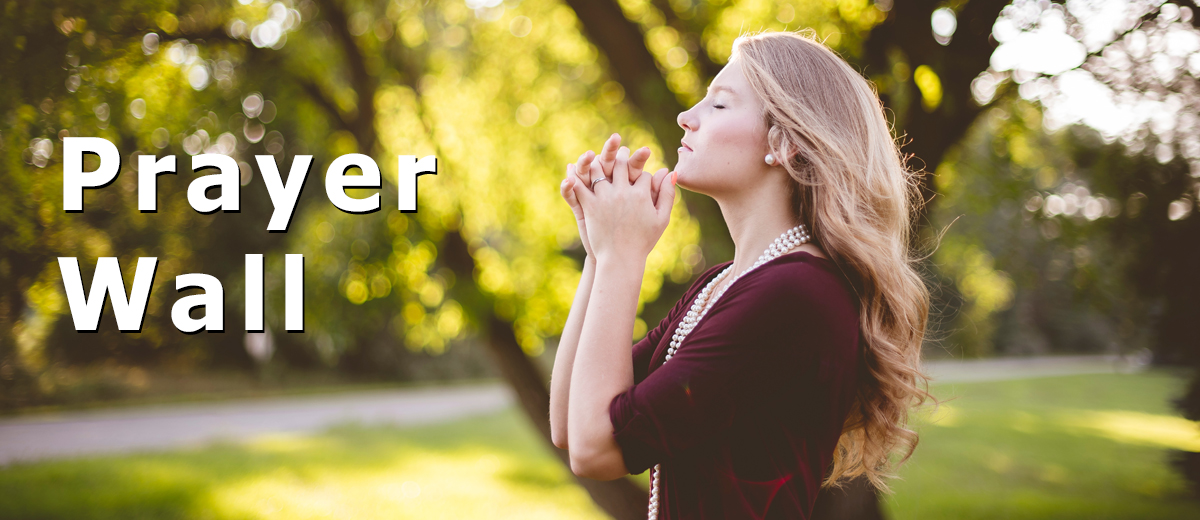 This page is for submitting prayer requests and committing to pray for others.
This page has had 279 requests and 1993 have committed to pray for others. Thank you!
**Prayer Wall Policy (Read Prior To Submitting Your Request)**

Thank you for reaching out to the WGRC prayer team (staff, board members & website visitors).  All prayer requests submitted to WGRC are reviewed before being posted.
You remain solely responsible for the content of your prayer requests and are agreeing to indemnify and hold harmless WGRC (Salt & Light Media Ministries) with respect to any claim based upon the transmission and posting of your prayer requests. Prayer requests are removed from the Prayer Wall within 30 days of posting, though we reserve the right to remove them at any time without notice.
We are honored to pray for you.  If you feel that you need counseling, we encourage you to seek help through Focus on the Family's counseling services:  CLICK HERE.
You can also contact the National Suicide Prevention Lifeline at 1-800-273-8255 or CLICK HERE.
By submitting your prayer request via the form below you acknowledge that you have read and agree to the above WGRC Prayer wall Policy.
Submit Your Prayer Request
Please fill out the form below with details about your prayer request.
When you pray for one of the requests below, be sure to click on the I prayed for you button so that we can let the requestor know how many times their request has been lifted up!
Request Title
Submitted By
# Prayers
Date
Need a little help!
Daniel Cahill
1
12-05-2019
Hi my wonderfull brothers and sisters at WGRC!Please say a prayer for your brother i am saved yet homeless at 73 so i need strength to fight the enemy and yet still keep a smile on my face!GOD richly bless you and Happy Holidays brother Danny 12/5/19

My Son Dan
Anonymous
3
11-26-2019
I am crying for prayers, for my son Dan's business to do well and be prosperous. The business is financially and emotionally draining on the family. I have been praying for 10 years. Please pray for him and his girlfriend. Please pray for the pressure on me, I am 69 years, it's too much for me to handle at this time.

Prayer
Jordan H
4
11-22-2019
Please pray for my sisters father-in-law (arnold) that if he doesn't know Christ that God will send someone powerful His way to show him. Also please pray for both my sister's father-in-law and neighbour (Vicies) who are ill that God will cure them to His Son's glory in Jesus name

Survival!
Daniel Cahill
3
11-16-2019
Hi my wonderfull brothers and sisters at WGRC!Please say a prayer for me i am saved but homeless at 73 years of age and it is just a little scary not to have any strength left to get done the basic necessiitys of life!GOD richly bless you brother Danny 11/16/19

Pray for Breakthrough
Anonymous
4
11-13-2019
I was let go from my job this week because of "lack of work" over the winter. I thought things were going to work out that I would be promoted, but it went the other way. It stings because I was doing my best, and especially now right before the holidays and needing to heat my home through the winter. I don't want to use unemployment assistance, but rather trust God to provide as He always has for me. PLEASE pray for breakthrough in this area and many more for my life, and that of my family members. My patience and faith have taken a battering the past few years of waiting on God. I am still holding on with everything I have, just being honest! Thanks!


Save
Save
Save
Save