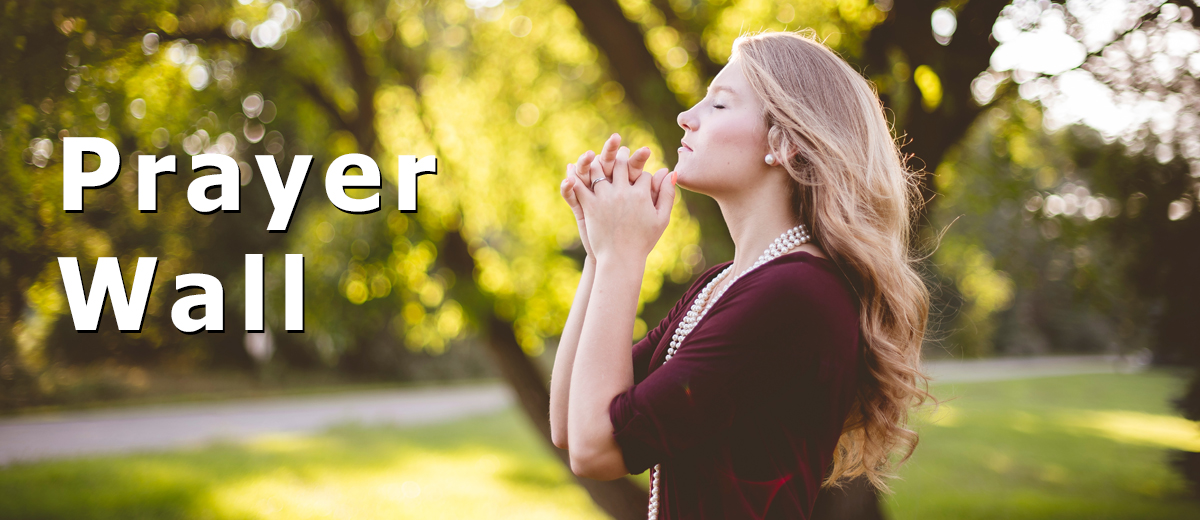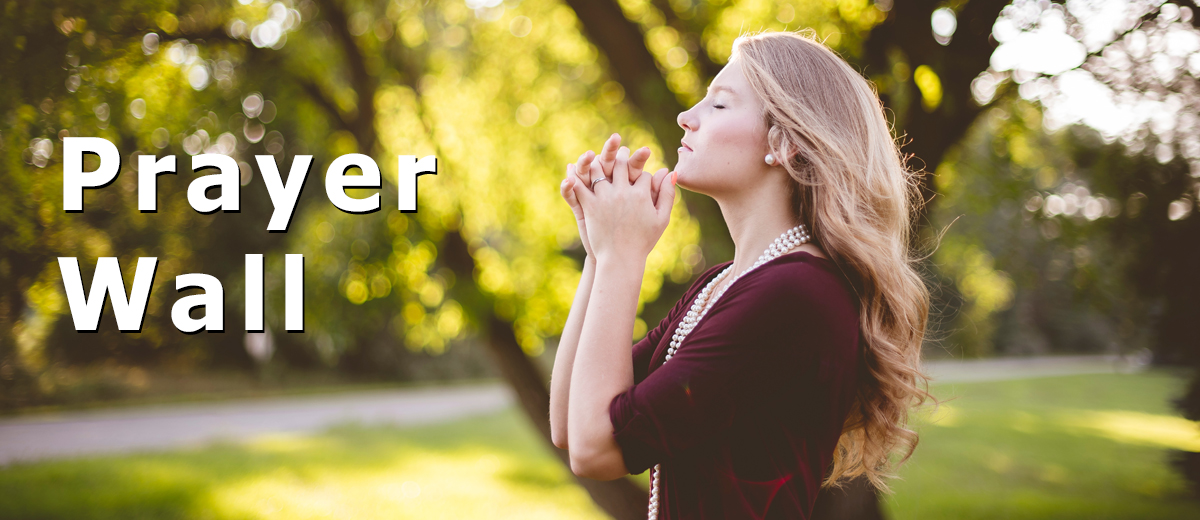 This page is for submitting prayer requests and committing to pray for others.
This page has had 208 requests and 1596 have committed to pray for others. Thank you!
**Prayer Wall Policy (Read Prior To Submitting Your Request)**

Thank you for reaching out to the WGRC prayer team (staff, board members & website visitors).  All prayer requests submitted to WGRC are reviewed before being posted.
You remain solely responsible for the content of your prayer requests and are agreeing to indemnify and hold harmless WGRC (Salt & Light Media Ministries) with respect to any claim based upon the transmission and posting of your prayer requests. Prayer requests are removed from the Prayer Wall within 30 days of posting, though we reserve the right to remove them at any time without notice.
We are honored to pray for you.  If you feel that you need counseling, we encourage you to seek help through Focus on the Family's counseling services:  CLICK HERE.
You can also contact the National Suicide Prevention Lifeline at 1-800-273-8255 or CLICK HERE.
By submitting your prayer request via the form below you acknowledge that you have read and agree to the above WGRC Prayer wall Policy.
Submit Your Prayer Request
Please fill out the form below with details about your prayer request.
When you pray for one of the requests below, be sure to click on the I prayed for you button so that we can let the requestor know how many times their request has been lifted up!
Request Title
Submitted By
# Prayers
Date
Freedom from Addiction
Anonymous
0
08-14-2018
Please pray for my young adult daughter who is involved with some very dangerous people and has become addicted to drugs. She sought help but left inpatient drug treatment early and I am very concerned for her future. Let us pray for all who suffer from this terrible disease.

Lauras health
Debra Lubert
0
08-11-2018
Please pray for my daughter, Laura, who is in end-stage renal failure. She will be starting dialysis soon, and praying a new kidney match is found too.

Restoration
Paul S
1
08-07-2018
Please pray that God would help me to make new friends, especially ones that would encourage me in my career and help me stay close to Christ. Also pray that God would help me in my finances and to overcome my debt. Finally pray that God would give me peace in all of it.

Kevin
Anonymous
3
08-03-2018
Please pray for my son Kevin, he is dealing with some legal issues and drugs. He has a hearing on Monday for a DUI and next the 14th for Assault chargers. Please pray for me to have the strength to get through this. I'm trying to get help in how to deal with a family member and drugs.

Home Forecloser
Cynthia Sauter
3
08-03-2018
Please pray that I can refinance my mortgage loan somehow to avoid the mortgage company from foreclosing on my home of 30yrs. My husband died and we did not have life insurance the loan.

Pure Intentions
Kevin Wendt
4
07-30-2018
I've been touched by the song, 'going through the motions'. Praying that I am able to have more pure intentions when trying to draw closer to God personally and while trying to lead my family, instead of just going through the motions.

Please Pray
Edmund Krzeminski
2
07-24-2018
Ezekiel 22:30: "And I sought for a man among them, that should make up the hedge, and stand in the gap before me for the land, that I should not destroy it: but I found none." O God, please help us and teach us to build a wall of prayer around the USA, Canada, Poland and Great Britain. Poland, pray for freedom from dead religion to saving faith of Jesus Christ as the Savior and the Lord by faith only, the Church in the USA & Canada & Great Britain – Pray for repentance and cleansing of the church. My family: stir up the hearts of my family for ministry for me, my wife Dorothy, our daughter Ann, and our sons Peter and Daniel. Pray for God's will, wisdom, discernment, revelation and recognition for me and my family; I ask God for Edmund's work situation, God's direction for Edmund , Dorothy, Peter, Daniel and Ann (also God's protection over the company where she works), God's order in my work. I ask God for great wisdom at my work. Blessings and the knowledge of Jesus Christ for my bosses.


Save
Save
Save
Save