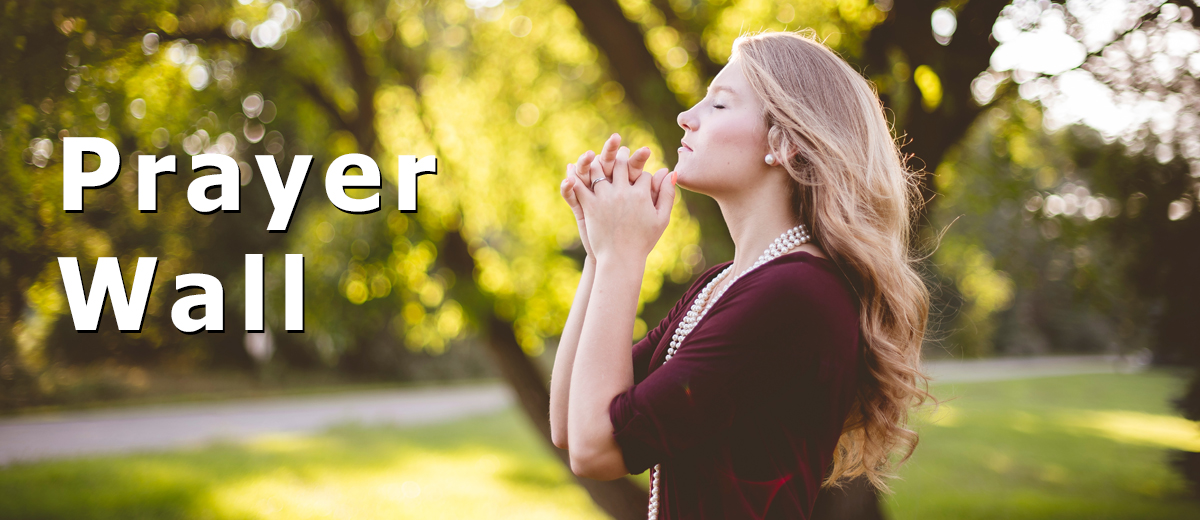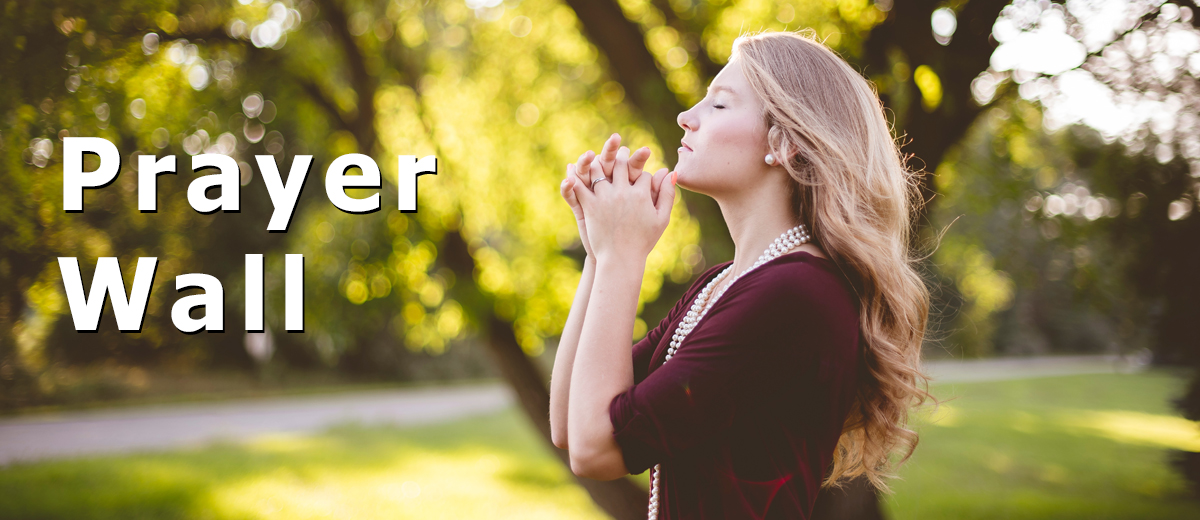 This page is for submitting prayer requests and committing to pray for others.
This page has had 192 requests and 1514 have committed to pray for others. Thank you!
**Prayer Wall Policy (Read Prior To Submitting Your Request)**

Thank you for reaching out to the WGRC prayer team (staff, board members & website visitors).  All prayer requests submitted to WGRC are reviewed before being posted.
You remain solely responsible for the content of your prayer requests and are agreeing to indemnify and hold harmless WGRC (Salt & Light Media Ministries) with respect to any claim based upon the transmission and posting of your prayer requests. Prayer requests are removed from the Prayer Wall within 30 days of posting, though we reserve the right to remove them at any time without notice.
We are honored to pray for you.  If you feel that you need counseling, we encourage you to seek help through Focus on the Family's counseling services:  CLICK HERE.
You can also contact the National Suicide Prevention Lifeline at 1-800-273-8255 or CLICK HERE.
By submitting your prayer request via the form below you acknowledge that you have read and agree to the above WGRC Prayer wall Policy.
Submit Your Prayer Request
Please fill out the form below with details about your prayer request.
When you pray for one of the requests below, be sure to click on the I prayed for you button so that we can let the requestor know how many times their request has been lifted up!
Request Title
Submitted By
# Prayers
Date
Father protect us
Jilian Rose
1
05-17-2018
Fast & pray. Heavenly father forgive all our sins (me, daughter, husband). Deliver us from all devil's chain. Father have mercy-grace on my daughter touch & heal her completely YOU know. Father shower YOUR blessings of success-knowledge-wisdom-good health-joy-peace-happiness-protection on her. Help her in study, guide her. No one may harm- hurt her. Protect her from all evil-illness-infection. Provide all her needs (healthy food). Touch-heal our mind-body-soul. Protect me & my job. No one may harm-hurt me. Deliver me from evil-unwanted thoughts. Heal my fingers. Father touch & heal my husband's stony heart, open his eyes to see his wife & daughter. Destroy all evil plans to hurt us. Provide me finance. THANK YOU FATHER FOR EVERYTHING IJN Amen

Financial problems
Anonymous
3
05-14-2018
The problem is money and it's a huge problem. I am in desperately bad situation where I just need a financial blessing to get somewhere.

Comfort & Peace
Danyelle Thayer
4
05-11-2018
Please pray for Nathan Patterson's family and friends of Huntingdon County, PA. His family is mourning his tragic death. He left behind his wife and two small children as well as all of his family. Very sad and heartbreaking. Also, pray for the SHC Class of 2012 as we have lost our 2nd classmate who was a good friend to many. Many are grieving Nathan's death. Through this tragedy, we know that God will comfort those and bring them peace. May this also be a time where those who don't know the Lord will find him through this hardship.

Healing
Anonymous
3
05-10-2018
Please pray for healing for my friend Michelle. She is in kidney failure and currently undergoing dialysis. Pray that God will heal her completely.

faith
Desiree Diehl
4
05-03-2018
how do I know that I'm right with the lord?I want to go to heaven when he come back .


Save
Save
Save
Save