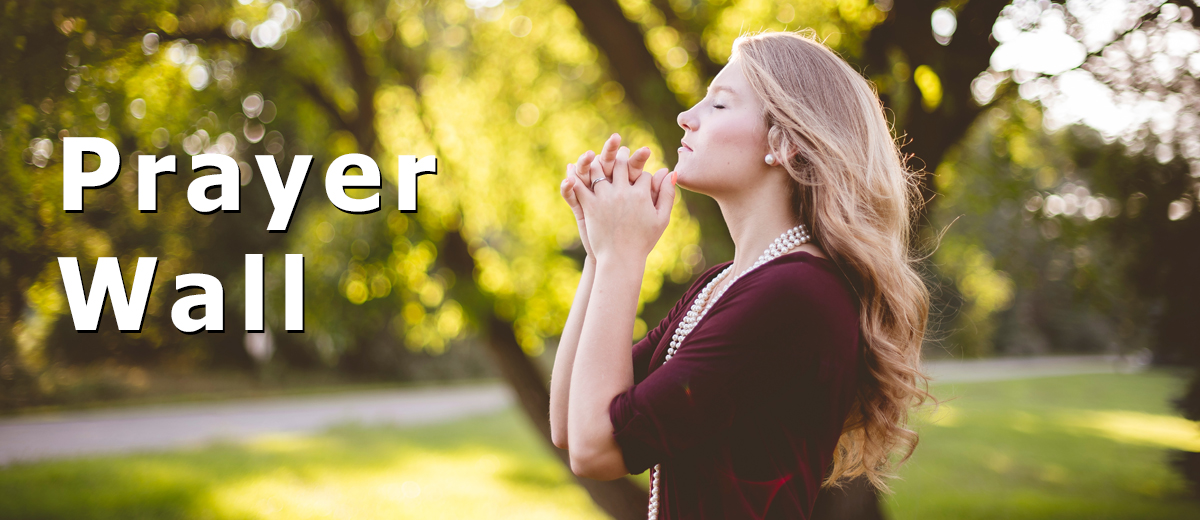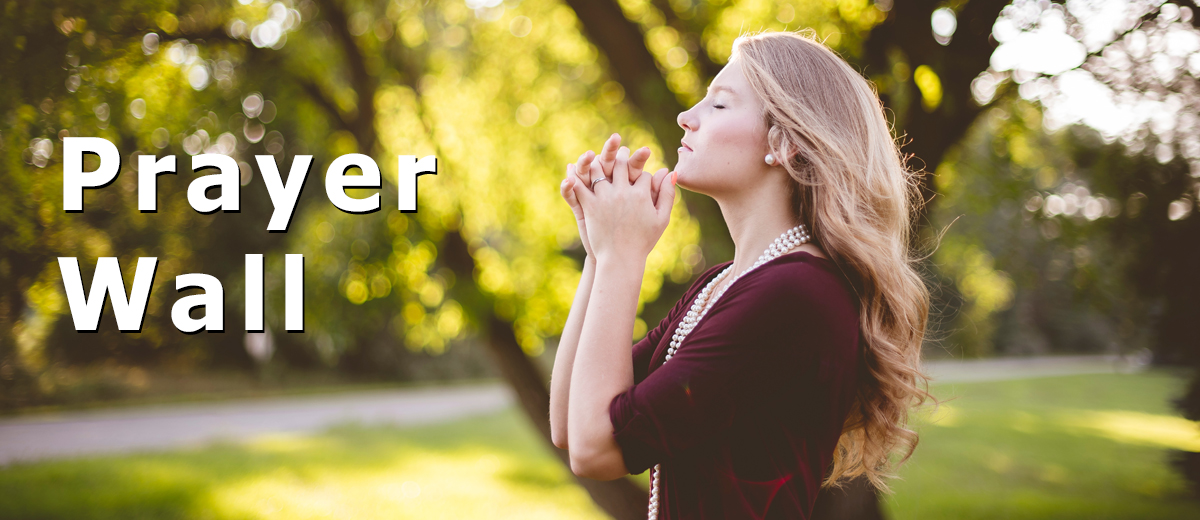 This page is for submitting prayer requests and committing to pray for others.
This page has had 222 requests and 1657 have committed to pray for others. Thank you!
**Prayer Wall Policy (Read Prior To Submitting Your Request)**

Thank you for reaching out to the WGRC prayer team (staff, board members & website visitors).  All prayer requests submitted to WGRC are reviewed before being posted.
You remain solely responsible for the content of your prayer requests and are agreeing to indemnify and hold harmless WGRC (Salt & Light Media Ministries) with respect to any claim based upon the transmission and posting of your prayer requests. Prayer requests are removed from the Prayer Wall within 30 days of posting, though we reserve the right to remove them at any time without notice.
We are honored to pray for you.  If you feel that you need counseling, we encourage you to seek help through Focus on the Family's counseling services:  CLICK HERE.
You can also contact the National Suicide Prevention Lifeline at 1-800-273-8255 or CLICK HERE.
By submitting your prayer request via the form below you acknowledge that you have read and agree to the above WGRC Prayer wall Policy.
Submit Your Prayer Request
Please fill out the form below with details about your prayer request.
When you pray for one of the requests below, be sure to click on the I prayed for you button so that we can let the requestor know how many times their request has been lifted up!
Request Title
Submitted By
# Prayers
Date
God's Healing Hands Needed
Amanda Edmiston
1
10-13-2018
Hi all you prayer warriors out there, could you please pray for my Aunt Wanda! She lives in central Florida and has been suffering from vertigo for a long, LONG time now. And sadly it's been getting worse as of late! She says it feels like someone going inside her head and is shaking her brain really really hard! I know she gets sick from a lot of her vertigo episodes and has lost TOO much wait because of it! Please pray that the Doctors can find something to help her or that God would see to healing her from this long time health problem!

Healing of brain
Victor Oats
4
10-10-2018
Please pray for Victor to be healed of paralysis caused by brain injury in Jesus name amen

Tyler
Padget Adams
5
10-05-2018
My friend Tyler had an accident and broke his foot. Please pray that God will heal him quickly so that he can play football.

Not boast
Anonymous
4
10-04-2018
Please pray that I would not boast of myself, that I would value godly character (for myself) and desire/have integrity. Thank you

Husband
Sarah W
5
10-04-2018
I'm not really sure if this something people normally do but I am writing to beseech your prayers for my husband. He has walked a shaky path most of his life but has within the last year and a half really started to turn his life around. However, he had gotten into some trouble almost 2 years ago and has a court hearing next Friday, October 12th. Potentially, he could face up to 2 to 5 years in state prison, if they want to sentence him that way. I have been trying to give this over to God but at times it's so difficult. I know that He is in control and that His mercy and love will abound. However, as it gets closer to the date, I get more nervous. I would appreciate any prayers you all are willing to say, that the Lord's will be done and that He will go before my husband and make way for mercy and grace to soften the judge's heart.

Prayer for Salvation and Protection
Angela Hughes
2
09-22-2018
First, let us give the Lord thanks for the abundance of all things. Please pray, that the Lord would deliver his people from evil men; that the Lord would preserve his people from violent men, who plan evil things in their hearts. Pray against the spirit of anti Christ, false witness, terrorism, hatred and violence. Please pray and intercede without ceasing that God's will be done in the lives of the world's leaders and for our leaders to seek God and listen to Him. Pray that they would be surrounded by Godly counsel and, that our leadership would personally know God and the salvation found through faith in Jesus Christ alone. That we may live peaceful and quiet lives in all godliness and holiness. God can turn the hearts of kings. Earnestly pray that the people of America and its leaders will humble themselves and seek the Lords face and turn from their wicked ways. Pray that the Lord would hear from heaven and forgive our countries sins and heal our land. Pray that the Lord would grant peace in America. Pray that President Trump along with our leaders be filled with power, with the Spirit of the Lord, and with justice. Please pray for revival and that the Lord would pour out his spirit on his servants,

Needs a friend
Amanda Edmiston
4
09-19-2018
I'd like prayer for my sister. She is suffering from depression and anxiety. She is a fellow believer but doesn't have any real friends to talk to. Her family, myself included love her very much but we live a little bit away. She needs a friend in her area, even a group possibly of fellow woman friends! It would be great to see her being able to gather together to have fun and enjoy some girl time!


Save
Save
Save
Save