Social Media/Office Assistant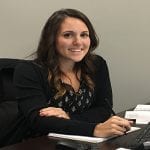 Gina works as the Social Media/Office Assistant managing our social media pages (including Facebook, Instagram, Twitter and Pinterest.) Her role in the ministry also presents opportunities to help with our events and donor/listener communication.
Gina studied at Messiah College and graduated with a bachelor's degree in communication with a concentration in public relations. Gina had the opportunity to work for a local ministry for four years as their event planner and community relations director but as God blessed her to be a mom she had to step away from a full time position. God worked in many ways to connect her with WGRC. Her position has provided the best of both worlds —an outlet to be creative and design, build relationships, and write but also to be a stay at home mom with her two daughters.

My story — my testimony — does not involve a light bulb, Ahah moment! I was blessed to be born into a Christian family that taught me the Gospel and what it is to live of life for Christ. But even though there wasn't a sudden change or shift in my way of living – I will always remember the time where I chose to recommit my life to Christ in a new way, not being influenced by the past- but a new desire and fire of my own, to live for Christ.

Save
Save
Save