Mid-Morning Announcer, Traffic/Website & Social Media/Office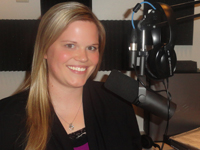 Courtney has been with WGRC since 2014. She serves as the weekday mid-morning announcer (9AM to Noon Monday to Friday) and also works in the front office. In the front office, her duties include website and social media management, daily traffic scheduling, and extra office help where needed. Courtney also loves to get into the production studio to help with station promos and announcements. We all wear many hats here at WGRC – it's one of the fun aspects she loves about local radio!
Courtney graduated from Mansfield University with a degree in Mass Communications with an emphasis in Broadcasting.  She found a home at her college campus radio station WNTE and was hooked on the radio environment.  From college, Courtney moved to Central Pennsylvania to work for a station in Bloomsburg– there she quickly learned that radio is all about jumping into opportunity.  She has been working professionally in radio for 10 years now and that rule continues to hold true. 
After Courtney began following Jesus she felt called to move into ministry work, and she prayed that God would provide an opportunity.  He did.  A position opened at WGRC and there was no question that it was His answer to Courtney's prayer.  Courtney loves serving with the team and feels blessed that God has called her to a place where her passion for radio meets her bigger passion for Jesus.  Each day is a new opportunity to learn, serve and love.
Courtney is a wife, a mom, a daughter, a sister and friend.  She loves outdoor adventures and her favorite place in the world is wherever her husband and son are.  Courtney loves to swim, but hardly gets the opportunity to be in a pool – running 5k races is a favorite weekend activity.  Courtney finds it difficult to pick an absolute favorite CCM artist, because her music taste always depends on her mood.  But no question at the top of her list is Tenth Avenue North, Rend Collective, Sidewalk Prophets & Kari Jobe (She is also always up for a good dance party with Danny Gokey tunes in the car).

I met and fell in love with Jesus in my mid-twenties.  Prior to that I found myself unsure of God and faith – but was exposed to it in bits and pieces through family, friends and neighbors.  I steered myself away from religion while constantly (and silently) wondering (and worrying) about death.  In my mid-twenties I began asking questions about death and religion, and through that search I learned about Jesus.  It only took a few months for me to realize that I do believe that God exists and His word in the Bible is the truth of life.  With the "big three" questions answered (where did I come from, why am I here & where am I going)…my heart was awakened to a new life possible through passionate pursuit of God.
When I met Jesus and came to understand what He did to set me free – there was no way for me to go about life in the same way anymore.  Rather than finding religion I found a relationship I had no idea existed.  Each day I hope to serve and Love like Christ while developing a Christ-centered identity.  God gets the glory for everything and every opportunity belongs to Him!

Save
Save