Every October is 

Pastor Appreciation Month

, a special time set aside each year to honor pastors and their families.  The second Sunday in October (this year, October 11th) is Pastor Appreciation Day.  Join us in thanking pastors for their hard work, sacrificial dedication, and servant leadership!
---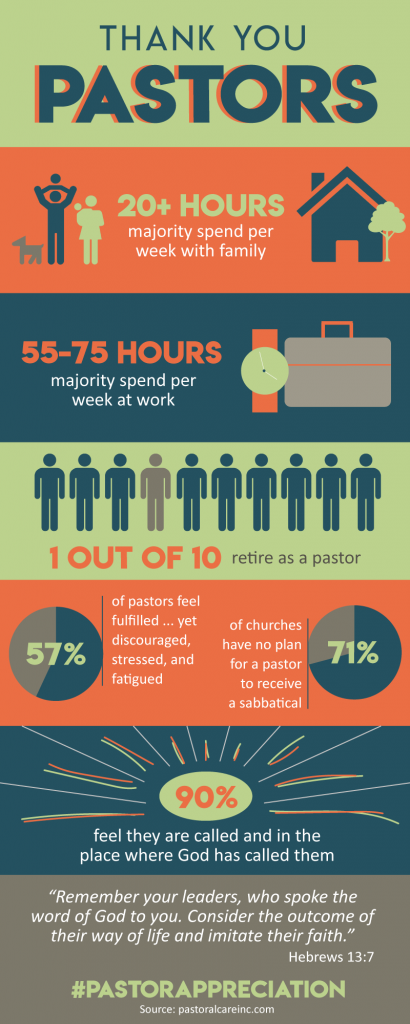 "Pastors have a very special calling on their lives, and they need to be appreciated, cherished and encouraged as much as possible. I read an article recently that stated that many pastors are retiring or changing careers these days, because it is such a challenging and difficult job."  – Karla Hawkins
Jeremiah 3:15 "And I will give you shepherds after my own heart, who will feed you with knowledge and understanding."
The Lord is raising up and providing shepherds after his own heart. God is the one who has blessed and called pastors with the talents, skills, and heart that the Lord wants for his people. This verse also states that God is the one who gives shepherds and leaders the "food" for the sheep—in other words, He gives pastors the knowledge and understanding that they need to feed the sheep.
1 Corinthians 15:58 "Therefore, my beloved brothers, be steadfast, immovable, always abounding in the work of the Lord, knowing that in the Lord your labor is not in vain."
I believe that pastors get discouraged sometimes when things are tough or their sheep are struggling with various trials, so it is important for them to remember that they are working for the Lord. It is also helpful to focus on the fact that since their labor is for God, they do not work in vain. Although good seed is being planted, it can take time for the seeds to grow and thrive. It's important for pastors to hold fast to the hope they have in the Lord, knowing that in Him, good will win out in the end. Disappointments and challenges will come, but the Lord encourages all of us, including pastors, to be steadfast and immovable no matter what.
Galatians 6:9 "And let us not grow weary of doing good, for in due season we will reap, if we do not give up."
This is a great verse to use in encouraging pastors, because it reminds them that their work is for a greater and eternal purpose. The Lord will give a harvest if they do not give up.
Colossians 3:23-24 "Whatever you do, work heartily, as for the Lord and not for men, knowing that from the Lord you will receive the inheritance as your reward. You are serving the Lord Christ."
In other words, God will reward preachers and shepherds for their work, and there will be a harvest—both in their own lives and in the lives of their sheep. It's easy to lose sight of the goodness of God while in the midst of daily tasks and weekly commitments, but God does everything to produce more of His goodness here on the earth. The work of a pastor is surely one of those avenues that brings glory to God.
---
Written by Karla Hawkins
---
Resources
– Revive Our Hearts: "30-Day Praying For Your Pastor Challenge" (PDF Download)
– Focus on the Family: "Church Resources" (Collection of Audio & Articles)
– Focus on the Family: "Pastor Care Line" (Help & Support for Pastors)
–  Core Christianity: "Your Pastor Needs Your Prayers" (Blog)