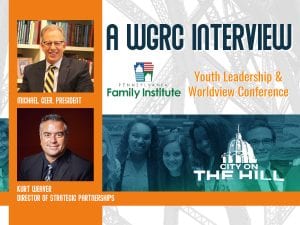 During this WGRC featured interview you'll learn about the work of the Pennsylvania Family Family Institute as it celebrates a 30th anniversary!  Michael Geer, President, and Kurt Weaver, Director of Strategic Partnerships, will also share about the impact being made each summer through the City on the Hill Youth Leadership and Worldview Conference!  This year's event is being held July 21-27. in Lancaster.  Click here to find out how you can win a scholarship to this week long event through WGRC!
(Interview Air Date:  May 1, 2019)
Click here to listen to the entire interview.