April 10-16, 2018

April 17, 18 & 19 on WGRC we will host an annual event we call "Growing Together."  This is a fundraising event that focuses on the financial partnerships God uses to continue to the WGRC ministry work.  As we step into this time our hearts and minds must be fixed on God's will for WGRC.
Please join us for the 7 days leading up to Growing Together as we meet with our Heavenly Father in Prayer.
Our focus will be the Growing Together theme verse, Psalm 40:3:
He has given me a new song to sing, a hymn of praise to our God.  Many will see what He has done and be amazed.  They will put their trust in the lord. (NLT)
Check back here for our written blogs and prayers each day.  Hear them on air at 2:50 AM, 7:20 AM, 10:50 AM, 1:20 PM, 3:50 PM and 7:20 PM.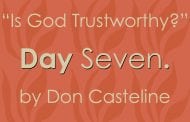 Day Seven: "Is God Trustworthy?", by Don Casteline He has given me a new song to sing, a hymn of praise to our God.  Many will see what he has done and be amazed.  They will put their trust in the LORD. Psalm 40:3 (NLT) I remember hearing evangelist Louie Giglio share about a […] Read more

Save
Save
Save
Save