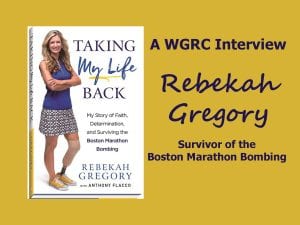 WGRC's Dave Jones interviews author Rebekah Gregory about her book Taking My Life Back: My Story of Faith, Determination and Surviving the Boston Marathon Bombing.  Rebekah shares about how the tragic event unfolded for her and her son as well as a contemporary Christian music song that helped her get through the days that followed.  For more information you can visit www.rebekahmgregory.com.
(Interview Air Date:  May 10, 2017)
Click here to listen.