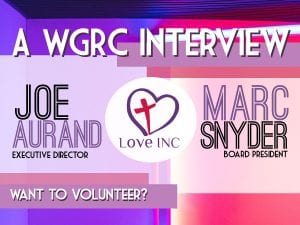 Love Inc. is serving upper Northumberland, Snyder and Union Counties from its Milton location.  Executive Director Joe Aurand and Board President Marc Snyder talk about the service oriented ministry that relies on volunteers and the current need for additional help.  For more information visit:  https://goldenruleloveinc.wixsite.com/website
To inquire about volunteer opportunities via email:  goldenruleloveinc@gmail.com.  To reach Love Inc. by phone:  570-742-3561.
(Interview Air Date:  May 15, 2019)
Click here to listen to the entire interview.