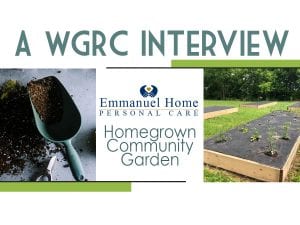 This WGRC interview centers around a new Homegrown Community Garden project at Emmanuel Home Personal Care in Northumberland.  The community is invited to join the effort which launched recently.  This interview features Robert Delbo, Administrator; Kimberly Delbo, Director of Nursing Services and Innovation; Gabriella Delbo, Community Health Education Coordinator and Adrienne Yordy, Homegrown Community Garden Liaison.  Visit www.emmanuelhome.org or call 570-473-0500 to learn more about planting in the garden or helping with harvesting.
(Interview Air Date:  June 25, 2019)
Click here to listen to the entire interview.