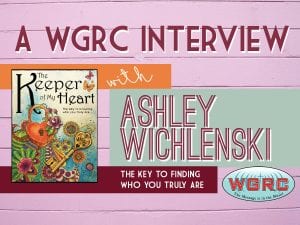 We invite you to listen to this conversation with Author Ashley Wichlenski!  WGRC's Dave Jones interviews Ashley about her book, Keeper of My Heart: The Key To Finding Who You Truly Are. During her quest for truth about herself, Ashley found that being a wife, a mother, and a business woman is not what defines her.  She discovered that her value is not in what she has done or hasn't done, or even how the world sees her, but only in how her Maker sees her.  And now, she wants to share what she found with all the daughters in the world so that they find their identity in the truth!
For more information visit www.thekeeperofmyheart.com
(Interview Air Date: March 2019 )
Click here to listen to the interview.