Grandparents Day is the Sunday after Labor Day
Join us in praising God for the relationship between grandchild and grandparent!
"…tell to the coming generation the glorious deeds of the Lord, and his might, and the wonders that he has done."
—Psalm 78:4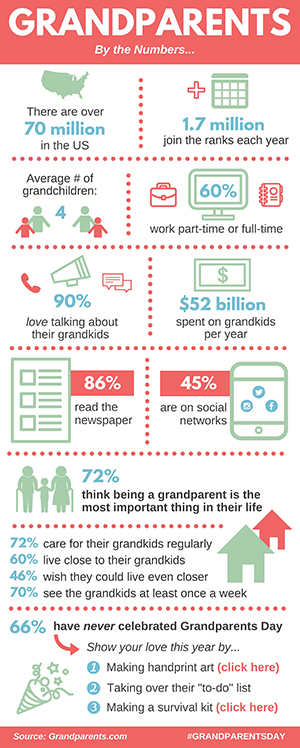 Scripture For Grandparents
Proverbs 17:6
Children's children are a crown to the aged, and parents are the pride of their children.
2 Timothy 1:5
I am reminded of your sincere faith, which first lived in your grandmother Lois and in your mother Eunice and, I am persuaded, now lives in you also.
Proverbs 16:31
Gray hair is a crown of splendor; it is attained in the way of righteousness.
Psalm 103:17
But from everlasting to everlasting the Lord's love is with those who fear him, and his righteousness with their children's children.
Titus 2:3-5
Likewise, teach the older women to be reverent in the way they live, not to be slanderers or addicted to much wine, but to teach what is good. 4 Then they can urge the younger women to love their husbands and children, to be self-controlled and pure, to be busy at home, to be kind, and to be subject to their husbands, so that no one will malign the word of God.
Psalm 90:12
Teach us to number our days, that we may gain a heart of wisdom.
Articles
15 Scriptures I Pray for My Grandchildren (CRU)
Grandparent Boundaries (FamilyLife)
How To Connect With Your Grandchildren (Focus on the Family)
Creative Grandparent Gift Ideas (Crafty Morning)