09dec7:00 pm9:30 pmThe Salvation Army's 20th Annual Festival of Trees7:00 pm - 9:30 pm Event Organized By: The Salvation Army, Williamsport Corps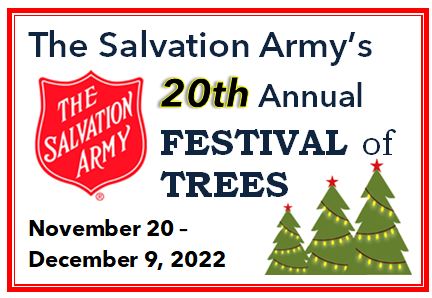 Event Details

The 20th Annual Festival of Trees will be held December 9, 2022, 7PM at the Lycoming Mall. 50 trees & incentive packages will be auctioned. Proceeds support local Salvation Army programs & services.

The Salvation Army of Williamsport is pleased to announce that our 20th Annual Festival of Trees–sponsored by Roan Real Estate, Lycoming Mall, Backyard Broadcasting, Miele Manufacturing, and Big Lots of Muncy–will be held November 20 – December 9, 2022, at the Lycoming Mall. Each tree is sponsored by a local business or organization. To commemorate the Festival of Trees' 20th anniversary, we are seeking 50 tree sponsors. Tree sponsorship deadline is November 11; for more information, contact Laura Templeton at 570-326-9187, x103. Decorated trees will be on display at Lycoming Mall center court starting November 20. During the three weeks that the trees are on display, the public can vote for their favorite tree by donating $1 per vote. The tree earning the most votes will receive the "People's Choice" award. The tree that raises the most money in total (including auction proceeds) will receive the "Best of the Festival" award. Mike Roan will auction all trees and their incentive packages to the public on December 9 at the Lycoming Mall beginning at 7:00 p.m. Over the last 19 years, the Festival of Trees has raised more than $350,000 to support The Salvation Army's local food pantry, gym, Red Shield Community Garden, youth and senior programs, emergency disaster services, and more.


Time

(Friday) 7:00 pm - 9:30 pm