General Manager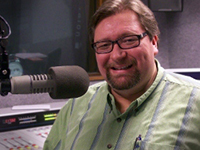 Rob joined the team at WGRC in December of 2012. Rob can truly say that it was God's timing and plan for his life, to move to Central Pennsylvania. His task was to build on a great history of ministry at WGRC.
Rob started as a student staff announcer at KOBC, then began helping with music programming. After graduation, he did a short stint playing Big Band and Standard classics (a bit like growing up and listening to his mom sing) at a local AM station. Then back to KOBC as Program Director and then General Manager. For over 30 years Rob was blessed with ability and opportunity to serve God in Joplin. Several years ago, the station sold and he looked for his next opportunity to serve through Christian Radio.
For a few years, Rob did various part time work in and out of radio and worked with tornado survivors after the historic tornado that struck Joplin. When that position ended, the WGRC board was making one last effort to find a new GM for WGRC. As they renewed their search, Rob also started to look for where God would lead him next. In God's perfect timing WGRC called Rob to serve here.
Along with ministry, music and radio, Rob loves his wife and kids. He enjoys time with family and friends, good conversation and watching movies and sports on TV. Rob is still a Cubs fan (pinch me! did we win the World Series?) and enjoys watching Notre Dame Football. Rob thinks there is nothing better than College Basketball in March.
Rob's favorite bible verse is 1 John 3:1, "See what great love the Father has lavished on us, that we should be called children of God! And that is what we are!" Most of all, Rob enjoys music, especially Degarmo and Key, Petra and too many others to mention! (70's rock and R&B)

Born and raised in Mishawaka IN, Rob accepted Christ at a young age and was challenged and encouraged to consider ministry as his life's path. Little did he know, at the time, that other influences in his life would become a part of that ministry. There was always music in the home and Rob's earliest memories are of his mother singing along with the radio at home and her singing at church.  Rob also loved listening to radio, from music to Chicago Cubs games.  It all came together as Rob attended Ozark Christian College in Joplin MO and discovered his interest in music and radio that led to ministry through Christian Radio.

Save
Save
Save
Save