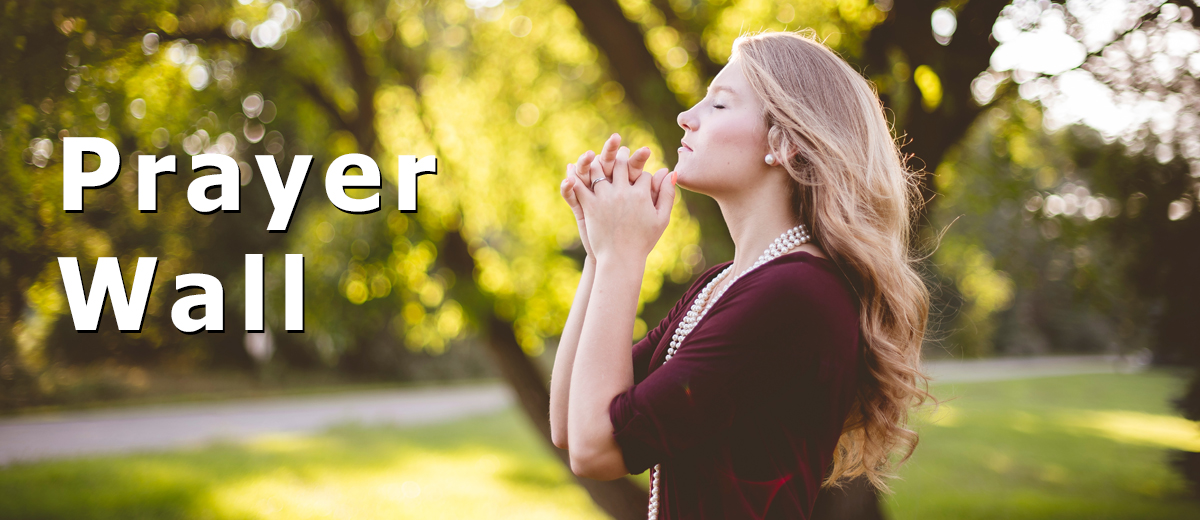 This page is for submitting prayer requests and committing to pray for others.
This page has had 292 requests and 2083 have committed to pray for others. Thank you!
**Prayer Wall Policy (Read Prior To Submitting Your Request)**

Thank you for reaching out to the WGRC prayer team (staff, board members & website visitors).  All prayer requests submitted to WGRC are reviewed before being posted.
You remain solely responsible for the content of your prayer requests and are agreeing to indemnify and hold harmless WGRC (Salt & Light Media Ministries) with respect to any claim based upon the transmission and posting of your prayer requests. Prayer requests are removed from the Prayer Wall within 30 days of posting, though we reserve the right to remove them at any time without notice.
We are honored to pray for you.  If you feel that you need counseling, we encourage you to seek help through Focus on the Family's counseling services:  CLICK HERE.
You can also contact the National Suicide Prevention Lifeline at 1-800-273-8255 or CLICK HERE.
By submitting your prayer request via the form below you acknowledge that you have read and agree to the above WGRC Prayer wall Policy.
Submit Your Prayer Request
Please fill out the form below with details about your prayer request.
When you pray for one of the requests below, be sure to click on the I prayed for you button so that we can let the requestor know how many times their request has been lifted up!
Request Title
Submitted By
# Prayers
Date
Healing from COVID19
Josie Derayunan
2
04-01-2020
Dearest Lord, Please help my Brother Matthew who is a nurse who got contacted with COVID19 and right now cannot breathe and is coughing blood. I pray for healing and strength also to able to equipt the Doctors and medical professionals to help him and get the necessary medications and ways to help him get better from this virus. I pray please Lord Jesus please have mercy and take care of my brother to and the will to fight for his life and for the sake of his family. I pray please Lord heal us and be our refuge because we hold on to you in this time of crisis. These I pray for in the name of Jesus Our Lord and Savior. Amen

Perseverance in Faith Hope and Love
Anonymous
2
03-30-2020
For the grace to believe and rely on God's presence, power, wisdom, and love in this pandemic and the new relationship I am entering into. That His victory will be won over all sin, doubt, and fear.

Save
Save
Save
Save