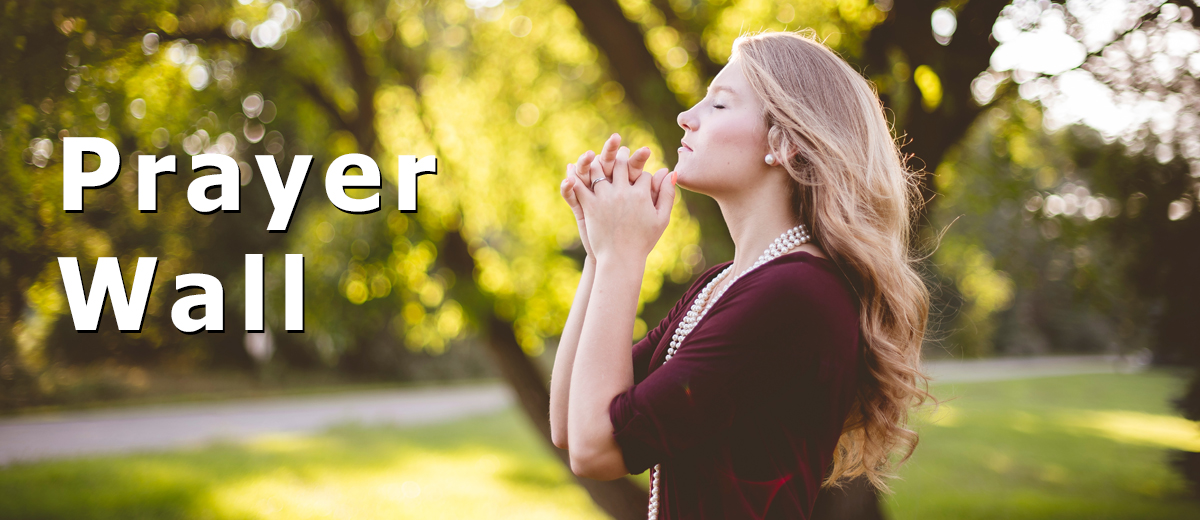 This page is for submitting prayer requests and committing to pray for others.
This page has had 288 requests and 2050 have committed to pray for others. Thank you!
**Prayer Wall Policy (Read Prior To Submitting Your Request)**

Thank you for reaching out to the WGRC prayer team (staff, board members & website visitors).  All prayer requests submitted to WGRC are reviewed before being posted.
You remain solely responsible for the content of your prayer requests and are agreeing to indemnify and hold harmless WGRC (Salt & Light Media Ministries) with respect to any claim based upon the transmission and posting of your prayer requests. Prayer requests are removed from the Prayer Wall within 30 days of posting, though we reserve the right to remove them at any time without notice.
We are honored to pray for you.  If you feel that you need counseling, we encourage you to seek help through Focus on the Family's counseling services:  CLICK HERE.
You can also contact the National Suicide Prevention Lifeline at 1-800-273-8255 or CLICK HERE.
By submitting your prayer request via the form below you acknowledge that you have read and agree to the above WGRC Prayer wall Policy.
Submit Your Prayer Request
Please fill out the form below with details about your prayer request.
When you pray for one of the requests below, be sure to click on the I prayed for you button so that we can let the requestor know how many times their request has been lifted up!
Request Title
Submitted By
# Prayers
Date
Prayer for migraines
Nina Jurczak
3
02-04-2020
I have been dealing with migraines for almost a year. They have been getting worse, but I believe in the Power of Prayer and I'm asking for prayers please for breakthrough. Thank you! God Bless!!

Please pray
Andrea Tegge
5
01-29-2020
Please pray for my family, for healing....and for my anxiety fears. Thank you

Cancer
Judy E
6
01-27-2020
Please pray for my daughter kim. She has ovarian cancer. Pray it didn't spread. Thank you God bless you.

Losing Hope!
Daniel Cahill
8
01-23-2020
I wrote several weeks ago asking prayer for strength. I'm homeless at 73 years of age. for about 10 years now and the prayer lifted my Spirit! I could use a little more prayer to make it through the winter!

God's Will
Jordan H
5
01-22-2020
Praise the Lord God for all He is good and merciful. I thank God for all He has done, for his blessing and mercy. Please pray that the Lord God will help me with my OCD and protect me from the evil one who is roaming about in this world. Pray that the Lord Jesus will keep me in His hands and protect me and seal me with His Holy Spirit until the day he comes to redeem me. There is no name that can save me but the Lord Jesus. Please pray for protection in the name of Jesus. Please pray for angels to come and drive away evil deception. Please pray that God will order my footsteps and keep me on the right path.

Save
Save
Save
Save