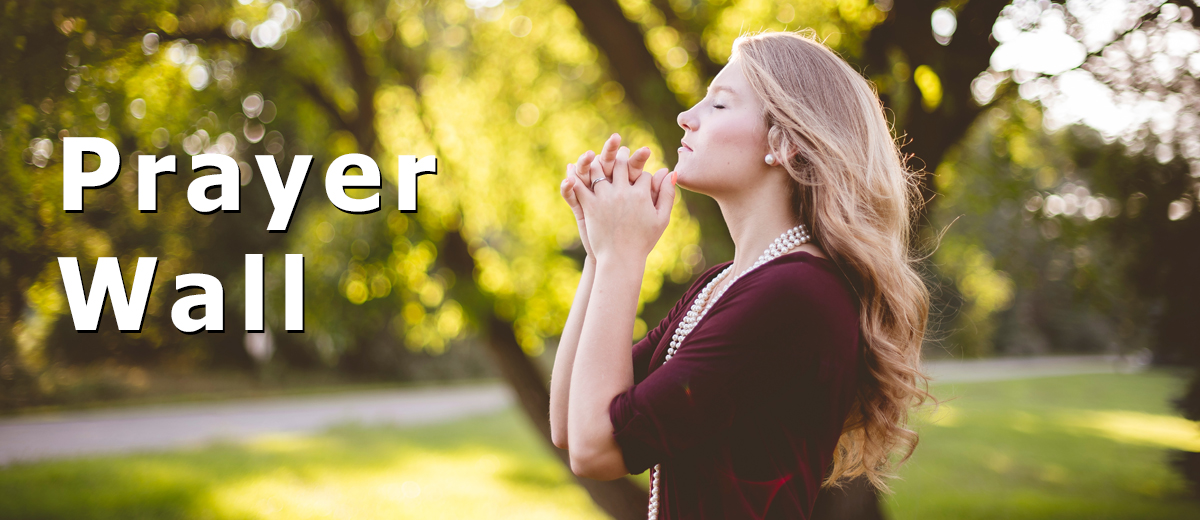 This page is for submitting prayer requests and committing to pray for others.
This page has had 276 requests and 1974 have committed to pray for others. Thank you!
**Prayer Wall Policy (Read Prior To Submitting Your Request)**

Thank you for reaching out to the WGRC prayer team (staff, board members & website visitors).  All prayer requests submitted to WGRC are reviewed before being posted.
You remain solely responsible for the content of your prayer requests and are agreeing to indemnify and hold harmless WGRC (Salt & Light Media Ministries) with respect to any claim based upon the transmission and posting of your prayer requests. Prayer requests are removed from the Prayer Wall within 30 days of posting, though we reserve the right to remove them at any time without notice.
We are honored to pray for you.  If you feel that you need counseling, we encourage you to seek help through Focus on the Family's counseling services:  CLICK HERE.
You can also contact the National Suicide Prevention Lifeline at 1-800-273-8255 or CLICK HERE.
By submitting your prayer request via the form below you acknowledge that you have read and agree to the above WGRC Prayer wall Policy.
Submit Your Prayer Request
Please fill out the form below with details about your prayer request.
When you pray for one of the requests below, be sure to click on the I prayed for you button so that we can let the requestor know how many times their request has been lifted up!
Request Title
Submitted By
# Prayers
Date
Pray for Breakthrough
Anonymous
1
11-13-2019
I was let go from my job this week because of "lack of work" over the winter. I thought things were going to work out that I would be promoted, but it went the other way. It stings because I was doing my best, and especially now right before the holidays and needing to heat my home through the winter. I don't want to use unemployment assistance, but rather trust God to provide as He always has for me. PLEASE pray for breakthrough in this area and many more for my life, and that of my family members. My patience and faith have taken a battering the past few years of waiting on God. I am still holding on with everything I have, just being honest! Thanks!

Enlarge My Territory
Alicia Leitzel
3
11-08-2019
Hello! As someone who has struggled most of my adult life to accept myself as I am and see myself the way Christ sees me, it has become my passion and mission to enlighten, encourage, and edify women like myself who often forget who they are in Christ. I am not only distributor for a high quality health & wellness business, but I've recently published a faith-based blog to reach women with the hope and truth of Jesus. I don't sell anything. My main focus is to help hurting women, but I believe that someday, with affiliate marketing, I will be able to make a living through my blog so I can quit my day job and just work for the Lord. I am also starting a ministry at my home church, Revival Tabernacle, so in all these ventures, I would ask prayer that God would increase my territory! Thank you and God bless!

For my family to all come to Jesus
NIna Jurczak
4
11-02-2019
I know that nothing is IMPOSSIBLE FOR OUR GOD! My prayer request is for my entire family to come to Jesus!! I have a big family to name them all, but the Lord Know's them and also for Greg Wetherby and Jessie and her 4 children. Thank you all and God Bless!!

prayer for my daughter
Anonymous
6
10-31-2019
My 20 year old daughter away at college just found out she has mono. Please pray for healing and comfort from the Lord and that she will be able to finish her semester.

father getting surgery
Anonymous
5
10-31-2019
Please pray for my 81 year old father. Surgery on Friday Nov 1st. Above knee amputation of right foot. Prayer for surgery to go well, no complications and good recovery. Thank you.

Daughter
Anonymous
7
10-24-2019
Please pray for my adult daughter Kaitlin to realize that the bipolar scam artist (yes these are his words and he fully admits it) that she has fallen in love with, is destroying her life. Please pray for her to escape the situation and always know that family and God will be waiting to help her because TRUE LOVE is never ending.

Save
Save
Save
Save