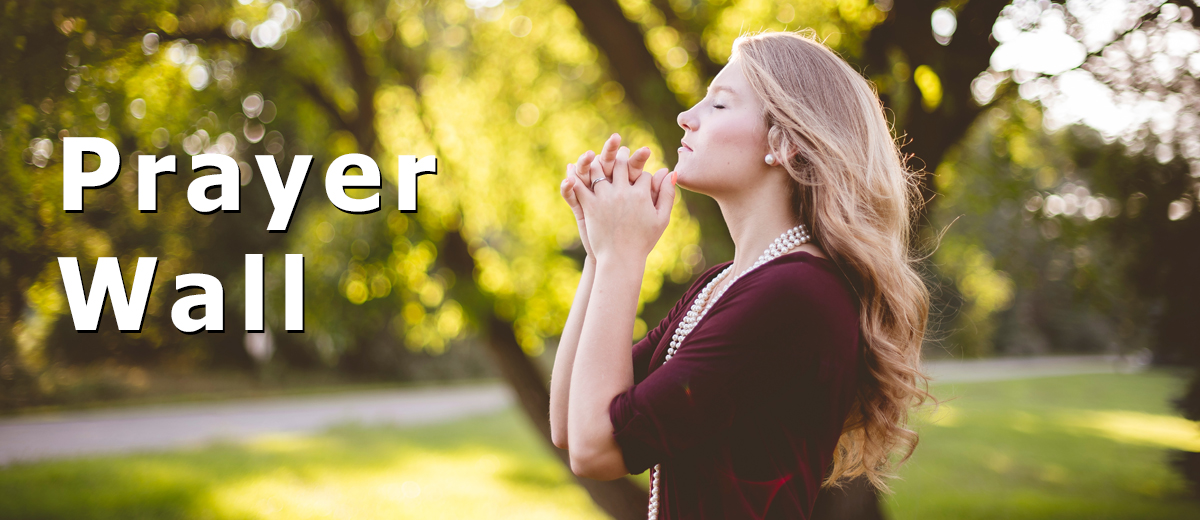 This page is for submitting prayer requests and committing to pray for others.
This page has had 245 requests and 1786 have committed to pray for others. Thank you!
**Prayer Wall Policy (Read Prior To Submitting Your Request)**

Thank you for reaching out to the WGRC prayer team (staff, board members & website visitors).  All prayer requests submitted to WGRC are reviewed before being posted.
You remain solely responsible for the content of your prayer requests and are agreeing to indemnify and hold harmless WGRC (Salt & Light Media Ministries) with respect to any claim based upon the transmission and posting of your prayer requests. Prayer requests are removed from the Prayer Wall within 30 days of posting, though we reserve the right to remove them at any time without notice.
We are honored to pray for you.  If you feel that you need counseling, we encourage you to seek help through Focus on the Family's counseling services:  CLICK HERE.
You can also contact the National Suicide Prevention Lifeline at 1-800-273-8255 or CLICK HERE.
By submitting your prayer request via the form below you acknowledge that you have read and agree to the above WGRC Prayer wall Policy.
Submit Your Prayer Request
Please fill out the form below with details about your prayer request.
When you pray for one of the requests below, be sure to click on the I prayed for you button so that we can let the requestor know how many times their request has been lifted up!
Request Title
Submitted By
# Prayers
Date
Reconciled
Anonymous
1
03-17-2019
Praise for restored and open communication with recent ex. Pray for God to help fully restore committed relationship. For complete reconciliation.

Pray for Seth
G B
2
03-17-2019
Please pray for my husband Seth. He is a 56 year-old drug addict and is missing. He's been in dozens of programs over the years. Please pray for his deliverance, salvation and safe return home. Thank you.

Heart Check Up
WGRC Llistener Request
1
03-13-2019
Please pray for Donna, as she is having her aortic valve looked at during her appointment on April 2nd. She is very apprehensive about this check up, so please pray for peace. Pray that the Lord would keep any feelings of depression far away. Please pray for her appointment and the doctors as well. Her appointment is on April 2nd at 4PM. Thank you!

New Home
Anonymous
5
03-05-2019
Praying for forward movement in my relationship with my fiancé in the way of being able to plan a wedding and move into a new home together with our four children. Acceptance of the offer we put in on a new home this morning would really help us take the next steps toward becoming a married couple and a family and help us feel that we are walking in God's path. We are VERY MUCH looking forward to what God will do and are committed to being THANKFUL in ALL CIRCUMSTANCES.

Please pray for our family
Lona Henry
6
03-01-2019
My stepmom had surgery on her back today, and my Dad has to have open heart surgery on Tuesday for 3 blocked valves, replace a stent from a heart attack 13 years ago and repair a leaky valve. They live in Arizona. My sister canceled her Haiti trip to be first to go out to help them, but her husband is still going to Haiti on their mission trip but things are so unsettled there, they both have concerns for safety. I'm not in the best of health and physically limited, but my husband and I are going to fly out in about 2 weeks to relieve my sister and continue helping our Dad and stepmom. Thank you for your prayers. God is good, all the time.

Save
Save
Save
Save