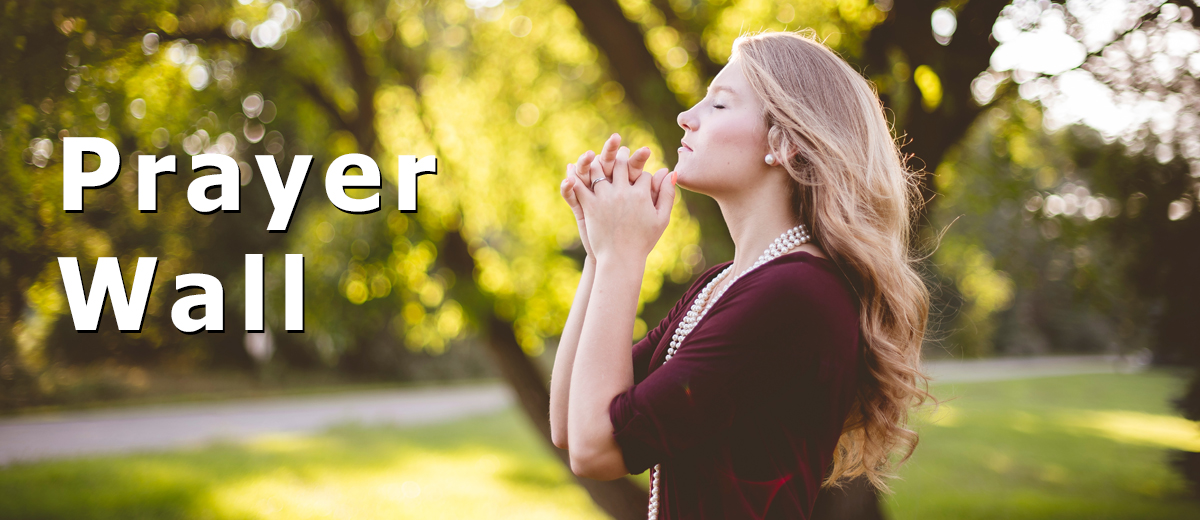 This page is for submitting prayer requests and committing to pray for others.
This page has had 227 requests and 1692 have committed to pray for others. Thank you!
**Prayer Wall Policy (Read Prior To Submitting Your Request)**

Thank you for reaching out to the WGRC prayer team (staff, board members & website visitors).  All prayer requests submitted to WGRC are reviewed before being posted.
You remain solely responsible for the content of your prayer requests and are agreeing to indemnify and hold harmless WGRC (Salt & Light Media Ministries) with respect to any claim based upon the transmission and posting of your prayer requests. Prayer requests are removed from the Prayer Wall within 30 days of posting, though we reserve the right to remove them at any time without notice.
We are honored to pray for you.  If you feel that you need counseling, we encourage you to seek help through Focus on the Family's counseling services:  CLICK HERE.
You can also contact the National Suicide Prevention Lifeline at 1-800-273-8255 or CLICK HERE.
By submitting your prayer request via the form below you acknowledge that you have read and agree to the above WGRC Prayer wall Policy.
Submit Your Prayer Request
Please fill out the form below with details about your prayer request.
When you pray for one of the requests below, be sure to click on the I prayed for you button so that we can let the requestor know how many times their request has been lifted up!
Request Title
Submitted By
# Prayers
Date
Father-in-Law Battling Lung Cancer/Salvation
Harold Perry
0
11-18-2018
Please pray for my father-in-law, Thomas. He is battling lung cancer. At his most recent Dr. visit he was told that if he went into Hospice he would only have weeks to live. He is going to do chemo and radiation therapy. Please pray that God will remove this cancer from his body and more importantly, please pray for Thomas' salvation. Also, please pray for his wife (Susan) who is having a difficult time with all of this.

Family Problems
Jonathan Perry
3
11-12-2018
Mikayla's grandma has a leaky heart valve and multiple injuries and her mom has said things that are potentially suicidal thoughts

Daughter needs prayer
Terri Cromwell
4
11-08-2018
Please prayer for my daughter, Mya Cromwell. We were in the ER again last night. She was in so much pain. The ER doctor told us she needs to see a Pediatric GI doctor to get an upper GI scope done to find out what is going on. She has been in pain since the end of August. We are currently waiting for her primary to call us back so we can get her referred to someone over at Geisinger. Please pray for a quick appointment and clear treatment plan!

Anniversary of a Death
Anonymous
5
11-01-2018
2 years ago a friend committed suicide. Please pray for the family and friends as today is a particularly rough day.

Some Good from the Bad
Anonymous
4
10-24-2018
Please pray for my son, James and daughter, Michele who are both trying to get employment at my company. They both have had many difficulties. I am hoping for good things and success with the help of prayers.

Save
Save
Save
Save