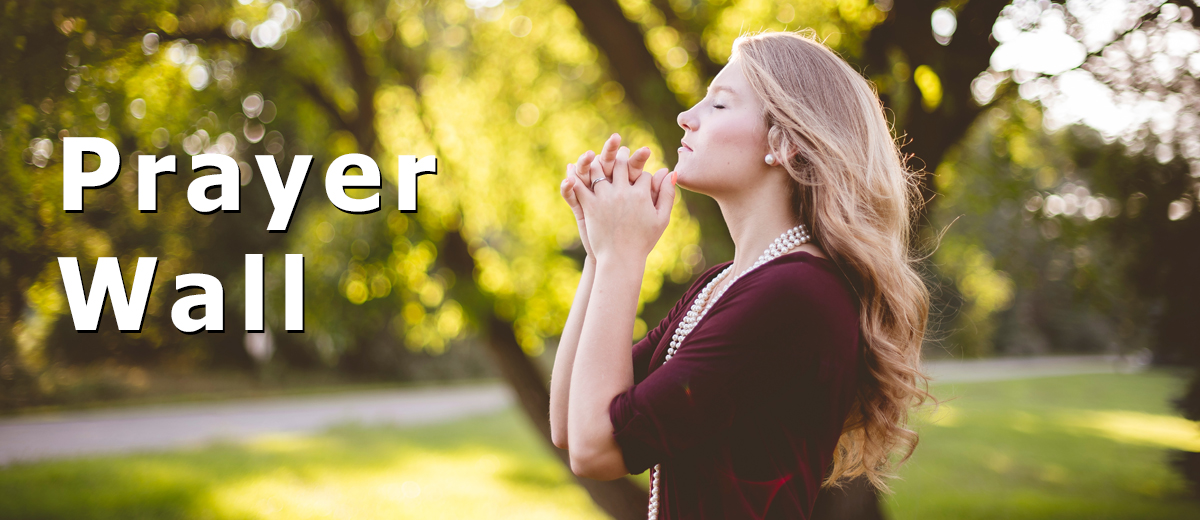 This page is for submitting prayer requests and committing to pray for others.
This page has had 88 requests and 732 have committed to pray for others. Thank you!
Submit Your Prayer Request
Please fill out the form below with details about your prayer request.
When you pray for one of the requests below, be sure to click on the I prayed for you button so that we can let the requestor know how many times their request has been lifted up!
Request Title
Submitted By
# Prayers
Date
John's Stroke recovery
Marlena Renninger
1
02-17-2017
For a full recovery for John E. Chupick Jr. from a debilitating hemorrhagic stroke he suffered on 8/2/16 affecting his right side. May GOD guide, heal and grant him patience during his recovery....in JESUS's name I pray! Thank you GOD!!!!

Love
Anonymous
1
02-16-2017
I want everybody to recieave love and kindness even if they don't deserve it.

hope,for the,future
Anonymous
8
02-16-2017
i am trying to keep custody of my grandchild but my daughter wants custody of him. her life is unstable and her boyfriend is a threat to her and so i feel he would also be a threat to her child. a hearing is scheduled in march and i would like prayers for all to go well and my grandchild can remain in my care.

breakthrough of finacial hinderance
angela christensen
7
02-15-2017
I need prayer to hhave a home be healed of all sickness and need resolved the sistuation at money now and cash express child support my husband have a job i need a house a car and my children back to the lord and mesalvation obedience to our lord to our father

Prayer for a new position where I can serve the Lord
Anonymous
7
02-13-2017
I am asking for prayer so that I might find a new position. I work as a counselor, and I would love to be able to share my faith and God's healing power with hurting people. My company was bought out, and the new owners are not Christians.

Need prayer
Anonymous
14
02-08-2017
Please pray that I can find a better job opportunity with less and better hours and no loss of income

Guidance and Thy will be done
Anonymous
9
02-07-2017
I have been going thru a very long "valley experience". To be honest there's too much to tell, and I wouldn't want to be mistaken for complaining. "Life is hard, but God is good" and "when friends don't understand, precious Lord take my hand", and you know, he does ! And I'm at a point where I don't even know what to pray for anymore and am thankful as Romans 8:26 teaches "Likewise the Spirit helps us in our weakness. For we do not know what to pray for as we ought, but the Spirit himself intercedes for us with groanings too deep for words." So right now, all that comes to mind is the old song… "Lord, Help me walk another mile, just one more mile. I'm tired of walkin' all alone. Lord, Help me smile another smile, just one more smile. I know I just can't make it on my own. I never thought I needed help before, thought that I could do things by myself. Now I know I just can\'t take it anymore. With a humble heart, on bended knee, I'm beggin' You, please, for help. Lord come down from Your golden throne to me, to lowly me. I need to feel the touch of Your tender hand. Release these chains of darkness, let me see, Lord let me see. Just where I fit into your master plan. I never thought I needed help before, I thought that I could do things by myself. But now I know I just can\'t take it anymore and with a humble heart, on bended knee, I'm beggin' You please, for help."

child with special needs
amy morris
18
02-07-2017
Im asking for prayer for a child that I am currently caring for he is autistic and adhd he is really behind in schooling and much more. Currently we are having a custody battle with the mother she was not caring for him the way he needed he was also being hit. We go to court on feb 15th to find out who keeps him me or the mother. Please pray that if he goes back with his mom that he still gets the help he needs and the care he needs its in GODS hands now. Thank you so much in advance for the prayers for Irwin.

ER
Anonymous
8
02-06-2017
Please pray for my mom. I'm taking her to the ER. She is having dizzy spells and almost passing out and other problems her doctor wants to make sure there is no bleeding on the brain

Help
Anonymous
9
02-06-2017
I have been having a lot of issues over my life including majorly life limiting disabilities and I do not know how much longer I can go on. Pray i can find purpose.

Healing
Brian Orndorf
12
02-06-2017
Please pray for Oakley, for healing and comfort as well as spiritual and emotional strength for a recent diagnosis.

Cure her Cancer
Anonymous
8
02-05-2017
Please pray for my sister's cancer. Pray for complete healing. Miraculous Healing, that only the Healer can give. Thank you so much.

Depression
Anonymous
10
02-03-2017
Please pray for me with my depression. One day Im happy the next Im in bad shape. I never want to go back to that dark day again. I dont need medicine. Been praying alot and listening to this station to fight it. Need to stay strong for my family and God ?

Full Time Job
Anonymous
10
02-02-2017
I am asking for prayer for a job opportunity. I seem to have much struggle to progress upward in employment.

Restoring and the devil must flee
Anonymous
8
02-01-2017
Thanking god for bringing my grandaughter home. Chains being broken off and generational curses being broken off. And no more bondage or strongholds. And all our family to heal. And foster family healing and at peace and no bitterness and they get to adopt a child with no family. And them to get saved and come to know Jesus :)!!! And this is all happening on feb 10 At 1:15

for myself
janeen brosius
13
02-01-2017
Please pray for me I was diagnosed With cervical cancer among other health problems. Thanks

A young friend with cancer
Michelle Good
8
02-01-2017
Please pray for my friend Lis and her husband Terry who is fighting cancer. They have 2 young daughters. We would covet your prayers as he has just started very strong chemo treatments. They were attending a Catholic church but now attend a Lutheran church and are looking to God to guide them. Please pray for strength and healing.

Marriage
Mike Stewart
12
01-31-2017
Please pray for my wife and I, we are currently separated but seeking counseling for marriage issues. Pray that the Holy Spirit guides us to where we need to be, thank you!

Prayer
Jordan Wood
7
01-30-2017
Pray for my nephew he's going to Court on Wednesday eighth and his name is Haven Sims.

My dad's surgery fri
Anonymous
7
01-30-2017
My dad is having blocked heart he has a lot of health issues

my mom
Anonymous
10
01-30-2017
My mom is a follower of Jesus Christ. She needs prayer for healing. Her legs and her feet. She knows the Lord can heal her so she can walk again. She has arthritis.

Save our home
Anonymous
7
01-30-2017
Please pray for a solution to help us keep our home. We have fallen behind and are working with the mortgage company for a solution but it still may require us to come up with lump sum funds we just don't have. It has been an on going struggle and God has carried us through thus far but we are getting worn down and just want the struggles to be over without losing our home. Thank you.

A sweet friend, her brother and family
Anonymous
8
01-30-2017
My sweet friend's brother suffered a stroke driving truck this past week and is not doing well. The doctor's have given him a couple days. Please pray for strength for this family at this very difficult time. Thank you!

Unspoken
Julie Neitz
7
01-30-2017
Please pray expecially for me on Wed am thanks

Healing and job
Anonymous
8
01-30-2017
Healing for my heart, to get back on my feet again. the Lord's direction, and a job.

kidney failure
Anonymous
7
01-29-2017
found out 2 weeks ago that my kidneys aren't functioning. Have started dialysis 3 times a week. Need to qualify for the organ donor lists. HUGE lifestyle changees...from diet, to time schedules, to not working (only 46).....

Potential serious problem
Richard Klingerman
5
01-28-2017
Twelve year old Josh gets a report next Tuesday that has potentially serious outcome.

Cousin with head injuries
Kristal Mower-Golding
5
01-28-2017
A very close cousin of mine got into an atv accident a week ago. He's been in induced coma since. He had severe head injuries as well as 2 broken bones. They're slowly weaning him off the ventilator now, but are concerned he has pneumonia. We are praying for a miralce. We have yet to know if he has all of his functions or if there is any brain damage. Thank you for the prayers

"Jesus Take the Wheel!"
Steven Barto
8
01-28-2017
I tend to take back my will and try to fix things without God. I am asking for prayer that I finally let Jesus take the wheel. Whenever I turn my back on the Lord, I trip in the dark and fall flat on my face.

Seeking
Anonymous
8
01-28-2017
I lost my job on Friday and I am a single mom with a special needs child. Please pray I'll find a new job quickly.

Infirmity
Nina Jurczak
5
01-28-2017
Ever since ive had gastric bypass surgery ive been very sick, i just got out of the hospital again, God healed me from stomach ulcers and its back and making very sick and im throwing up a lot and also ive been suffering with headache. Thank you, God Bless

Please pray for my Grandson
Sandie Hubner
6
01-28-2017
Coty is 21. He has kidney failure and has been waiting for 3 years for a transplant. It has been a rough journey for him and for the family. Of course we thought it would be a quicker process but learned that there are so many waiting for transplants. I have come to love the song Thy Will Be Done because the only way I have found to get through this is to trust that God is in control and that his timing is perfect. I ask that you would lift Coty in prayer that he would do well on dialysis until he is blessed with a healthy kidney. Thank you so much and God bless you.

Second Chance
Anonymous
9
01-27-2017
There is a girl that I have had immense feelings for since the day I met her. I finally got a chance with her, but then I made a huge mistake. I would do anything to get another chance with this girl and have been trying everything to get a second chance. This isn't as important as most of the prayers on here, but is something that I have been struggling with and don't want to give up on yet. Any prayers will be gratefully appreciated. Thank you!

Reliable transportation
Anonymous
9
01-27-2017
My fiancee and myself are both disabled and need reliable transportation to and from our doctor's appointments. Our vehicle has broken down and will cost more to fix then we can afford.

My Mom
Anonymous
10
01-25-2017
I would like for people to pray for my mom. My mom needs lots of prayer and she needs wisdom to guide her through the paths of righteousness and that she will be making the right decisions with her life before it's too late. Thank you!

my son/my family
Anonymous
13
01-25-2017
My son is a freshman in college and just told us last evening that he is gay. I am having a hard time with this because this is totally against what I believe, however, he is my son. My husband on the other hand is not dealing well at all. He doesn't have the Christian background and faith that I have. So he himself also needs prayer. I also have an older daughter and younger son that are also struggling with this. Please pray for strength for our family.

My Mom
17
01-24-2017
Prayer for mom and restoration of her marriage. Please pray for mom and the rest of my family.

Circle for Healing
Bruce Matthews
14
01-23-2017
Please join me in forming a circle of prayer warriors who declare that all evil get behind Bruce so Father God can totally restore his health in order to proclaim God's Word through music & message on air!!

Little Boy fights for life
Tyler John Paul Ritzko
18
01-23-2017
Tyler, born yesterday at Schuylkill Medical Center, Pottsville, continues in PICU on oxygen to fight for his life on earth if it be according to Father God's will

Infertility
Chelsea Freynik
11
01-23-2017
My husband and I have been dealing with infertility and failed treatments for over 2 years. Pray for peace, hope, and direction for where God wants to take us even if it includes us not becoming pregnant. Most importantly that God will be given the glory from this circumstance. Thank you.

Personal and River Valley of Maine prayer needs...
Michael LeClair
7
01-19-2017
I am looking for prayer in the following areas... 1. Personal protection spiritually, mentally, relationally, and financially 2. Increased faith and hope that translates into God moving in the lives and hearts of people in the River Valley area 3. Increased desire for local Pastors to encourage one another and work together for lives to be changed and God to be glorified in the River Valley area. The enemy loves to keep Pastors separated instead of working together to encourage and help one another. I believe this grieves God as it does not demonstrate the fruit of the Spirit (Gal 5) 4. For God to miraculously begin to deal with many lives that are mentally ill, in bondage to drugs, alcohol, sex, pornography, etc. 5. Help and breakthrough for broken families, and for men to begin to see their value and need within their families for the sake of the kids. 6. Increased leading vision, understanding, and direction as God desires and not my own. Again, thank you sooooo much!

Desperation
Erin
16
01-18-2017
Abandoned by my husband of 26 years - I am now facing bankruptcy and the loss of my home. I work three jobs, but spent 25 years as a housewife and mother. I have no marketable skills and can't seem to keep my head above water. Please - I have a court hearing today that I cannot possibly defend myself against. Pray for a miracle - that I might be able to work something out with my creditors... it's all just so overwhelming and I am exhausted. I need God's comfort and protection more than I ever thought possible. I am prepared for his will to be done - just alone and terrified. Thank you for praying for me.

Healing
Anonymous
15
01-17-2017
Prayer for healing for me against rejection early on that is still plaguing me today. Restoration of my heart, to be part of family

Confidence and College
J
9
01-16-2017
Hello, I have been struggling with a certain addiction that I have been trying to break and so pray that by the Lord's grace and my intentionality it can be broken through intimacy with Jesus. Also, I am currently starting a new semester at college (I am a senior) and I just ask for prayer to help me start and stay with determination, confidence, and pursue my studies (I am majoring in youth ministry) with joy and hard work, and pray that I am able to influence people here for Christ (mostly believers) to grow in their faith and experience Jesus even more and advance the Kingdom. Thank you to all who will pray!!

Family issues
Anonymous
10
01-12-2017
My family is in the midst of turmoil. We have 4 adult children. There has been a strained relationship with 1 of them for awhile now. She has been very disrespectful & has said some things to my husband & myself that have not been "nice" (for lack of a better word). The other 3 siblings have "sided" with her. They have not heard "our side", just feel we are being very unfair to her. Although we do not know what she is telling the other 3, they believe what we are doing is wrong. We have chosen to distance ourselves from her because of the hurtful things she says to us. The others don't think we should be "excluding" her, but won't listen to what we have to say. This whole thing is causing a lot of distress within the family...so much so that 1 of our daughters doesn't want us attending our grandchildren's sporting events. Any suggestions will be extremely helpful & please pray. We don't know what God's will is or how to discern.

Asking for prayers for guidance
Anonymous
8
01-03-2017
Hi, I have a couple major decisions to make regarding my family that I am struggling with, Please pray for God to open my heart to which direction I need to move and for the strength to follow him. Thank you!

Life
Robin Geiger
5
12-28-2016
Please pray for me and my family our relationships and all other aspects of our lifes and that we always try to live according to God's word and that we show through our actions Christ likeness and help lead them to God and not hinder people in anyway also there is 2 major situations that are lingering out there and pray that they come to a positive end soon tusvm

Recent death in family
Anonymous
7
12-26-2016
Please pray for my family, we lost an uncle early this morning. He had open heart surgery two weeks ago and did not recover from it.

For my son and family
Walt Kehler
10
12-25-2016
That the Lord will watch over my son to keep him safe and healthy through the next year as he will be deployed to Kuwait serving our country in the US Army. The lord will keep my wife and daughters and their families safe and healthy through the coming year. That this country will realize that peace and joy comes through knowing Jesus Christ.

Save
Save