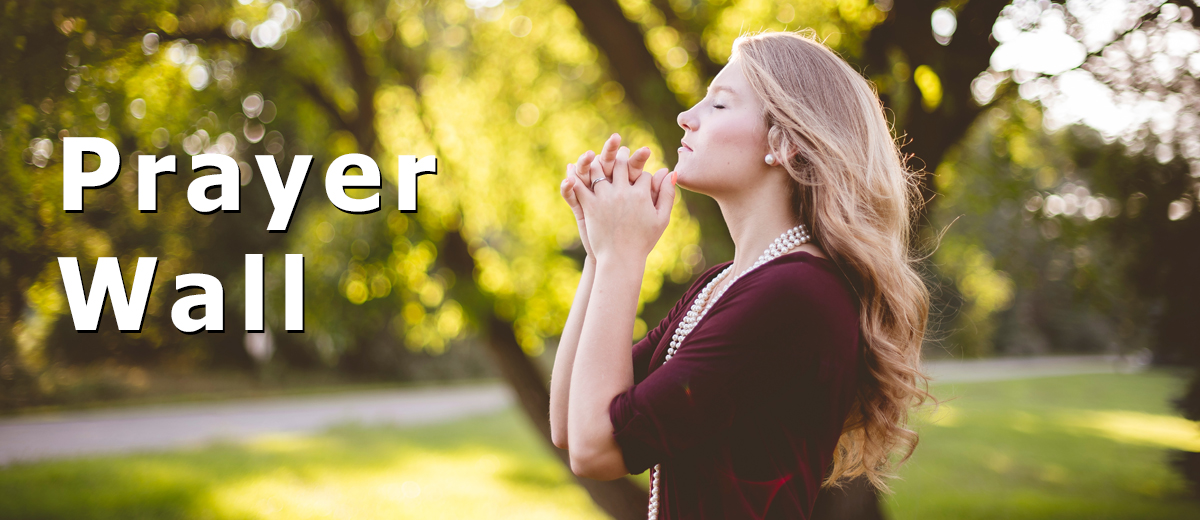 This page is for submitting prayer requests and committing to pray for others.
This page has had 112 requests and 906 have committed to pray for others. Thank you!
Submit Your Prayer Request
Please fill out the form below with details about your prayer request.
When you pray for one of the requests below, be sure to click on the I prayed for you button so that we can let the requestor know how many times their request has been lifted up!
Request Title
Submitted By
# Prayers
Date
healing ,allow to return home in California
MR & MRS KIRCHER
4
03-22-2017
We ask in Jesus Christs name ,healing prayer for our friend who is in the hospital, He is a good man ,Father ,Son,Brother, Uncle, and friend, May the Lord heal Alvaro Jaime Garcia, and may he be allowed to come home to his family and children, and stay where he belongs . Amen,we love you Jaime

health and finances
Anonymous
5
03-21-2017
Feeling so overwhelmed with bills right now and just found out yesterday that I need surgery and there could be cancer. I can't afford to take off work. Feeling so stressed.

Freedom from drug addiction
Anonymous
5
03-19-2017
Please pray for my grandson to be free from his drug addiction and to get his life back together and give his life to God. Also for his mother for complete peace and God in her life also.

financial
Tom Benfer
5
03-15-2017
We have a financial need to get some bills paid.

For restoration and victory
Donna Neiman
2
03-15-2017
For GOD to bring the wrath on the lies. Our family be restored on march 16 at 9:15 am court hearing and for forgiveness and JUSTICE !!!!?

need healing
Christopher Brown
4
03-14-2017
Hello my name is Christopher Allen Brown. I have a thyroid tumor and the operation will be Thursday March 16th at 10:30 am. Would your church please pray for our Lord Jesus Christ to heal me. First noticed symptoms on my birthday last year November 26th.

For a Friend
Anonymous
3
03-09-2017
A friend of mine is facing surgery today for DIPG. Please keep her in your prayers today and the next few days as she undergoes the surgery and recovery.

My Mom's Salvation
Nina M Jurczak
4
03-06-2017
My mom is 53 and she was just told that she has ALS. I was told that not many people live more than 5 year's. My mom is struggling bad with the demons that are attacking her. She keeps saying that she want's to go to Church, but something won't allow her. I told her that it demons that are bringing fear to her to go to Church. May you please pray for my mom's heart to be soften and that she surrenders all to the Lord. She's not a Christian, but I know with God all thing's are possible. Thanks and God Bless

Brother's Back Surgery
Dawn Strawser
3
03-06-2017
Please remember my brother, Shawn, tomorrow morning. He's to have several discs replaced with titanium ones. Month of recovery. Twelve children plus in-laws and his wife in South Dakota Thanks and God bless

First Shift Job/Our Daughters
Anonymous
2
03-03-2017
Please pray that my husband finds a first shift job. He has been working 2nd shift, and that is just not a good fit for our family. We have been praying for 1 year, and nothing has come up. We are trusting that God's timing is always perfect. Also, please pray for our 3 girls who are 17, 17, and 20. They have all fallen away from their faith in Jesus, and are making poor choices as a result.

Depression
Anonymous
3
03-02-2017
Having really bad anexity, and self harm urges. Please let it stop.

Marriage
Anonymous
7
02-28-2017
Please pray for my marriage, it is in crisis. I just found out my husband had an affair we need to decide what we do now. He said it was over, I am not convinced. He doesn't know if he wants to fight to save it or not. I am tired too, it has been a long road to get to this point. I want the marriage saved.

Pray for Employment
Anonymous
5
02-28-2017
Please pray for my son. He graduated from Penn State in December and hasn't been able to find a job yet. His student loans are coming due next month and he has no money to pay them.

Prayer for peace for my dad and my depression
Anonymous
12
02-26-2017
My dads is on hospice. He is in a lot of pain and his confusion is getting worse. Please pray he is in peace and that he will not suffer no more:(. Hate seeing him like this. Also pray for me to fight this depression. Its getting worse. Need to stay strong for my family.

Anxiety
travis crooks
7
02-25-2017
I would like to ask prayer for myself and my family right now, I am going through a time of high anxiety and all the terrible things that come with it , I would ask for prayer that God would restore me and protect my family from falling apart because of alll of this and that i would have full victory over this and that God would use this to strengthen me in Him

Healing
Anonymous
6
02-25-2017
Carlos Rivera - 15 yr old that was hit by a car 1 week ago in Harrisburg walking home from school. Fractured skull and brain swelling. Lung issues. Does not open eyes and cannot speak.

OCD Attacks
Anonymous
13
02-23-2017
My name is J. and I am a devout Christian who loves God and loves ministry. I pray on a daily basis, attend a Bible based church,and I am in the word. Here is my situation. I have suffered from OCD since my teenage years. My main issue is with intrusive thoughts which I honestly believe are demonic attacks. I have sought out help in the past but had no luck. I have such a love for the Lord and I honestly believe my OCD has stopped me from being able to fully serve the Lord like I want because of the intrusive thoughts. I ask for your strongest, boldest prayers asking God to remove my OCD from my life. God is capable of doing all things and I need his supernatural power because I want to serve God to the best of my ability. Thank you, J.

Healing
Anonymous
11
02-23-2017
Requesting payer for my sister who recently received grave diagnosis. Thank you.

Peace
Anonymous
13
02-22-2017
Would like to ask for prayer for peace with some upcoming decisions as well as to discern God's will in the situations. And against stress. Thank you

Save
Save