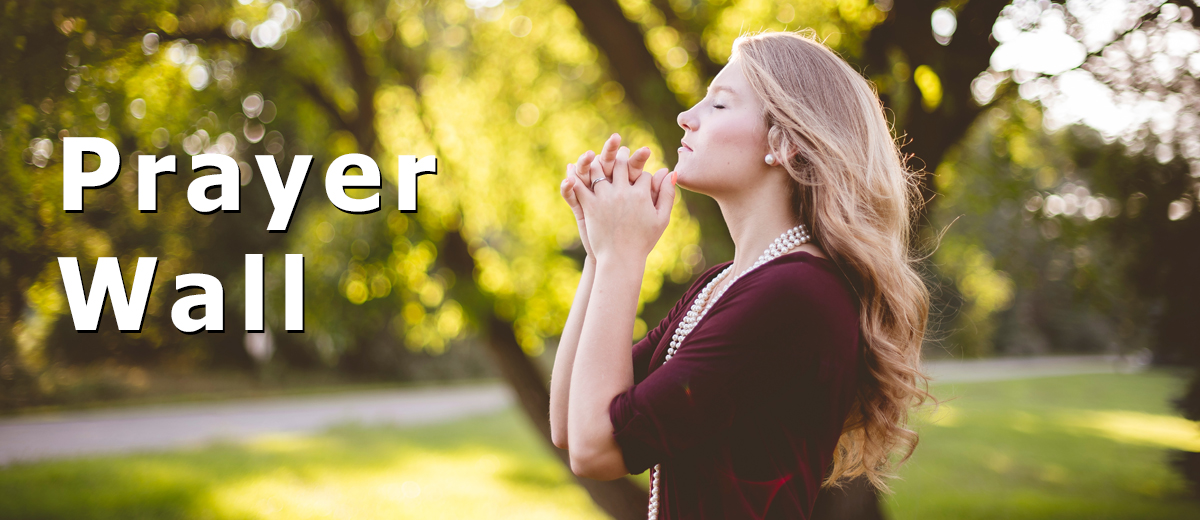 This page is for submitting prayer requests and committing to pray for others.
This page has had 217 requests and 1625 have committed to pray for others. Thank you!
**Prayer Wall Policy (Read Prior To Submitting Your Request)**

Thank you for reaching out to the WGRC prayer team (staff, board members & website visitors).  All prayer requests submitted to WGRC are reviewed before being posted.
You remain solely responsible for the content of your prayer requests and are agreeing to indemnify and hold harmless WGRC (Salt & Light Media Ministries) with respect to any claim based upon the transmission and posting of your prayer requests. Prayer requests are removed from the Prayer Wall within 30 days of posting, though we reserve the right to remove them at any time without notice.
We are honored to pray for you.  If you feel that you need counseling, we encourage you to seek help through Focus on the Family's counseling services:  CLICK HERE.
You can also contact the National Suicide Prevention Lifeline at 1-800-273-8255 or CLICK HERE.
By submitting your prayer request via the form below you acknowledge that you have read and agree to the above WGRC Prayer wall Policy.
Submit Your Prayer Request
Please fill out the form below with details about your prayer request.
When you pray for one of the requests below, be sure to click on the I prayed for you button so that we can let the requestor know how many times their request has been lifted up!
Request Title
Submitted By
# Prayers
Date
Prayer for Salvation and Protection
Angela Hughes
0
09-22-2018
First, let us give the Lord thanks for the abundance of all things. Please pray, that the Lord would deliver his people from evil men; that the Lord would preserve his people from violent men, who plan evil things in their hearts. Pray against the spirit of anti Christ, false witness, terrorism, hatred and violence. Please pray and intercede without ceasing that God's will be done in the lives of the world's leaders and for our leaders to seek God and listen to Him. Pray that they would be surrounded by Godly counsel and, that our leadership would personally know God and the salvation found through faith in Jesus Christ alone. That we may live peaceful and quiet lives in all godliness and holiness. God can turn the hearts of kings. Earnestly pray that the people of America and its leaders will humble themselves and seek the Lords face and turn from their wicked ways. Pray that the Lord would hear from heaven and forgive our countries sins and heal our land. Pray that the Lord would grant peace in America. Pray that President Trump along with our leaders be filled with power, with the Spirit of the Lord, and with justice. Please pray for revival and that the Lord would pour out his spirit on his servants,

Needs a friend
Amanda Edmiston
1
09-19-2018
I'd like prayer for my sister. She is suffering from depression and anxiety. She is a fellow believer but doesn't have any real friends to talk to. Her family, myself included love her very much but we live a little bit away. She needs a friend in her area, even a group possibly of fellow woman friends! It would be great to see her being able to gather together to have fun and enjoy some girl time!

Please Pray
Edmund Krzeminski
1
09-12-2018
Ezekiel 22:30: "And I sought for a man among them, that should make up the hedge, and stand in the gap before me for the land, that I should not destroy it: but I found none."O God, please help us and teach us to build a wall of prayer around the USA, Canada, Poland and Great Britain. Poland, pray for freedom from dead religion to saving faith of Jesus Christ as the Savior and the Lord by faith only, the Church in the USA & Canada & Great Britain – pray for repentance and cleansing of the church. My family: 1. Stir up the hearts of my family for ministry for me, my wife Dorothy, our daughter Ann, and our sons Peter and Daniel - "..but as for me and my house, we will serve the Lord" Joshua 24.15 2. Pray for God's will, wisdom, discernment, revelation and recognition for me and my family; I ask God for Edmund's work situation, God's direction for Edmund , Dorothy, Peter, Daniel and Ann (also God's protection over the company where she works), 3. God's order in my work. I ask God for great wisdom at my work. Blessings and the knowledge of Jesus Christ for my bosses.

Wind & Flood Damage
hettie worrells
1
09-11-2018
Please pray for blessing and no wind or flood damage in the area - in Jesus name.

Disability Approval and Husband
Anonymous
1
09-11-2018
We are struggling financially big time. My mom passed last year and with her, I lost my job and ins, but I can't work now due to health. Hubby (Isaac) is stressed and trying to carry this burden alone and working so much but it still isn't making ends meet. I've applied for disability, got denied, got a lawyer and now I'm waiting. Medical bills are piling up, I'm selling stuff just to get my meds, we're not eligible for assistance. I honestly don't see how we can make it the next 6 months let alone a year in this shape. It's very hard for someone like me to get disability approved in one year just because I'm 32 and it's physical ailments. We are beyond needing this to be approved and I pray everyday it will be approved before this year is gone. Many would say this will be an impossible feat, but with God ALL things are possible! Please agree with me in prayer on this! Please also pray that my husband will Be set on fire for the Lord again.

Sick Cousin
Anonymous
2
09-10-2018
Pray for Marcel. He is only 2 years old and has cancer. Please pray for him.

PRAISE
HAL WHITLOCK
3
09-06-2018
A prayer was answered last night with an out of the blue phone call. The person that called is very important to me and they said some things that I really needed to hear from them. I just want to thank Jesus for allowing this; I know this was a gift to help restore a hurting heart. Please pray this call will allow for a restoration of that relationship, and an even stronger one that is based on a mutual respect and appreciation...but more importantly one that grows because of a mutual service to Jesus! Amen.

Save
Save
Save
Save