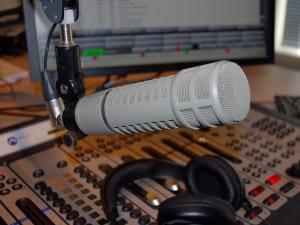 The WGRC radio ministry has been 'on a mission' from the very beginning… even before signing on the air on April 22, 1988. In fact, WGRC's 'Mission Statement' sums up what this ministry is all about. The statement hinges around four key words: Worship, Grow, Reach, and Connect.

WGRC's Mission Statement: To engage in daily worship of Jesus Christ, fostering growth in God's grace for those reached with radio programming that connects with the family and community.
When you partner with WGRC (through prayer and financial support) you help us to do the following:
– To proclaim the person of Jesus Christ by means of contemporary Christian music programming.
– Maintain a radio presence that encourages believers to continually worship Jesus Christ in 'spirit and in truth'.
– To support and strengthen individuals and families by communicating principles of "biblically-based, godly" living.
– Adhere to the teaching of the Bible for faith and practice.
– Air ministry features with a spiritual, inspirational, informational and challenging presentation.
– To draw people to a saving knowledge of and personal relationship with God the Son, Jesus Christ.
– Provide technical means necessary to effectively reach the 'Pennsylvania Heartland' and the world through the internet.
– Broaden the coverage area through translator stations and other radio stations.
– Sponsor Christian speakers, music concerts and other outreach programs.
– Adopt, as financially able, the latest technological advances to enhance the effectiveness of the radio station.
– To provide a wholesome, attractive radio format which will connect with the greatest number of people.
– Provide up-to-date news, sports and weather reports.
– Provide public service time to area churches and organizations.
– Produce public affairs programming relative to issues of community-wide interest.
– Sharing together in fellowship through speaking opportunities and other events.
Do you have a relationship with Jesus Christ?
To learn more about being a follower of Christ you can click here or call 1-888-NEED.HIM or email us at WGRC. There's no greater decision you can make than to respond to the promise of John 3:16 –
"For God so loved the world that he gave his one and only Son, that whoever believes in him shall not perish but have eternal life."
WGRC is heard on frequencies:
91.3 FM Lewisburg
90.7 FM and 107.1 FM Williamsport
90.9 FM Lewistown
91.9 FM Kulpmont
101.7 FM State College
104.7 FM Pottsville
107.7 FM Bloomsburg
Speaking Engagements:
In need of a speaker for your church, business, or group event? If so, consider a member of the WGRC staff. We seek to impact Central Pennsylvania with an encouraging message of life in Jesus Christ.  Call 1-800-546-WGRC in advance with details about the event and speaking commitment. You can also email the information to email@wgrc.com.