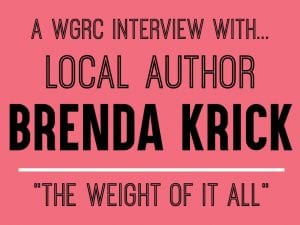 Area author Brenda Krick says, "Partnering with the Lord changes everything".  In her book, The Weight of It All, Brenda shares about grieving the loss of her parents while also embarking on a journey of weight loss.  Her testimony is one of God's love, healing and the identity she has found in Him.
Brenda will be featured during a book reading/signing at a pair of upcoming locations:
Bible Depot in Sunbury on Thursday, October 4th from 1pm-3pm
Barnes & Noble Bookstore in Lewisburg on Saturday, October 6th at 12pm
(Interview Air Date:  October 2, 2018)
Click here to listen to the interview.