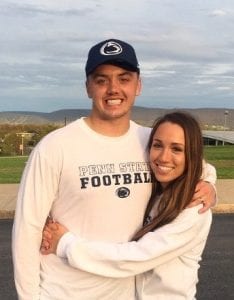 Brandon and Andrea Smith stopped by the WGRC studios recently.  In this interview, they discuss faith, football, future plans and the ongoing missions work of Honduran Soles.  Brandon Smith recently completed his final season on the Penn State football team.  He shares about the PSU experience and how he is approaching this summer awaiting news as to whether the NFL or medical school is next.  Andrea discusses her journey through this season of life as well as what God is leading them to next.
(Interview Air Date:  July 10, 2018)
Click here to listen.