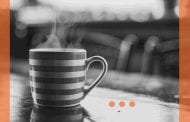 Monday, 9/24 –  You have an opportunity to win a prize pack by participating on the Monday Morning Text Challenge:  Fall Favorites!  Listen for opportunities to identify some of those things that are enjoyed most during the fall season.  The number to text is 1-888-747-9472.   Remember… please do not text while driving!
Tuesday, 9/25 –  Featured interview with Bill Morrow of the Fellowship of Christian Athletes (FCA).  You can also win a prize pack by playing the Numbers Game at 7:15am!
Wednesday, 9/26 – The featured interview with Race Director Bethany Treas about the upcoming Fall Fudge Run in Northumberland.  Dave will also share the Weekly Wednesday Winsome Wacky Word at 8:15am!
Thursday, 9/27 – Tune in for the Topic of the Day!  Call or text 1-888-747-9472 to participate.  Also at 8:15am you can play the Random Game.
Friday, 9/28 – You can play along with Multiple Choice Friday at 7:45am!  Be listening at 7:15am for a 'sneak peek' of new music.  Your song scores will be invited!